Defending champion Anthony Downes got off to an impressive start with a 6/0, 6/1 win over Keenan Persaud in their Men's Open Singles match when the Guyana Bank for Trade and Industry (GBTI) Open Tennis Tournament continued yesterday.
In the second match of the night, Bishan Dalip defeated Lemuel Ross 6/3, 6/3 to move on to the second round which starts tomorrow.   On Wednesday, defending champion Nicola Ramdyhan wasted no time in knocking junior player, Allana Chung, out of the Ladies Singles Open, comprehensively winning the match 6/0, 6/0.
Last year's finalist Philip Squires wasted little time in defeating GBTI 2014 novice winner Orande Dainty 6/2, 6/2. It was evident that Squires who is known for his agility and playful style was not in the best shape but he still managed to take the match in two sets. He will now have to face number four seed Daniel Lopes and number two seed Leyland Leacock to reach the finals.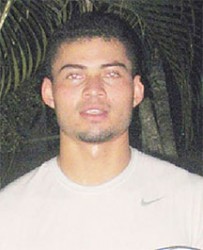 On the same half of the Men's Open draw, Daniel Lopes took an easy win of 6/1, 6/0 over Charles Adams.
The last match of the evening went to Harry Panday after his opponent, Alfonso Field, injured his back during the third game of the first set. Field tried to press through the pain but was forced to discontinue. Panday will now face Seanden David-Longe tomorrow night at the same venue.
Around the Web