Whenever I go out to breakfast or brunch, I ignore the bread, bagels and pancakes and head straight to the breakfast potatoes. With eggs, sausages, or bacon cozying up to the potatoes, all I need is a little a garden salad and my meal is complete.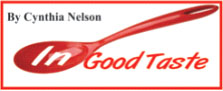 The chunks of fluffy potatoes are so tender that puncturing them with a fork to be transported to your mouth seems cruel; it's like they deserve to be picked up gently between your thumb and index finger.
The type of potatoes used for this dish is what gives that satisfying mouth-feel. White potatoes and russet work can work but Yukon gold or red potatoes really do the job.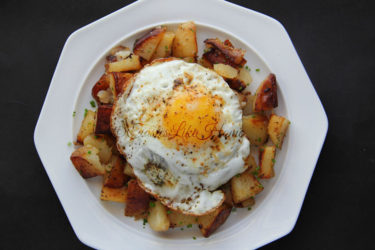 They hold up well to long cooking and the bits of cooked potatoes almost melt in your mouth.
While breakfast potatoes are traditionally roasted in the oven, I opted to prepare mine on the stovetop.
In the notes section are instructions as to how to cook then in an oven.
INGREDIENTS
3 tablespoons oil
2 pounds potatoes, peeled and diced into 1-inch pieces
Dry all-purpose seasoning
Ground black pepper, to taste
Salt, to taste (see note below)
Thinly sliced scallions (optional)
DIRECTIONS
Add the oil to a shallow frying pan and place on high heat until smoking hot.
Toss in the potatoes and spread them out in an even layer. Season by sprinkling the all-purpose seasoning, black pepper and salt and let cook untouched for 4 – 5 minutes. You want the potatoes to brown and form a crust on the bottom.

Breakfast Potatoes – cooked on the stovetop
(Photo by Cynthia Nelson)

Toss the potatoes once, cover the pan and reduce the heat to low. Cook covered for 15 – 20 minutes or until a knife inserts easily. Remove the cover; raise the heat to medium and let cook for 2 minutes before tossing again.

Remove from heat, sprinkle with scallions or chives and serve with eggs, bacon, sausages or as is.
NOTES
If your all-purpose seasoning already has salt, then do not add more to the dish.
You can play around with the dry seasonings for the potatoes with things like paprika, garlic and onion powder to name a few.
To cook the potatoes in the oven, preheat the oven to 425 degrees F. Add the potatoes to a sheet pan and toss with oil to coat the potatoes. Generously sprinkle on the seasoning, salt and pepper, toss lightly and bake for 40 – 50 minutes tossing the potatoes halfway through cooking.
Around the Web