A Bartica dredge owner was yesterday denied bail on charges of firearm and ammunition possession.
The court heard that Don Fraser, 26, of 57 Third Avenue, Bartica, on February 11, at Honey Camp, Issano Backdam, Mazaruni, had in his possession a single-barreled Remington 12-gauge shotgun without being the holder of a firearm licence.
It was also alleged that Fraser had two 12-gauge shotgun cartridges in his possession without being the holder of a firearm licence.
The accused denied both charges.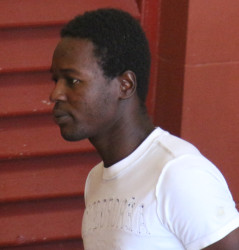 According to the prosecution's facts, on the day the firearm and ammunition were discovered, police had received information which led them to search Fraser's camp. When nothing was found, they received further information which prompted them to search a nearby bushy area, where the shotgun was discovered hidden in a length of rotten wood.
Prosecutor Deniro Jones further alleged that the accused had admitted the weapon was his and told ranks he used the gun for hunting.
Fraser's attorney, Latchmie Rahamat, told the court that he is a licensed firearm holder. She said that the day the weapon was discovered, her client had been at his camp with his licensed firearm and firearm licence in his possession.
Police, she said, left after they searched the camp and found nothing but later returned after they discovered a shotgun in nearby bushes in a trail away from the camp. She related that the police then told Fraser that the gun they found had to be his but he denied the allegation. He was also made to hand over his firearm and firearm licence.
Rahamat further stated that she had been told on Sunday evening that no charges would be levelled against the accused but he was nevertheless made to appear before the court yesterday.
Chief Magistrate Ann McLennan remanded Fraser to prison until February 25, after she found that no special reasons had been presented by the defence. The next hearing will take place at the Bartica Magistrate's Court.
Around the Web