Two brothers have been arrested as investigators continue to probe the murder of Coast Guardsman Kevon Payne, who was gunned down on Tuesday night in Charlestown.
The arrest of the brothers, Clive and Randy Bharat, was confirmed by Crime Chief Wendell Blanhum, who said that investigators are exploring several leads.
Stabroek News understands that the development came after the brother of the Payne, Vellone Thorne, recanted an earlier statement to investigators in which he alleged that the police were involved in the killing of his brother.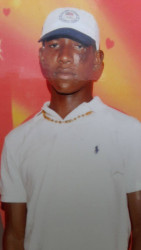 A source had indicated to this newspaper that Payne might have been mistaken for his brother, who was the intended target of the attack due to a dispute with an underworld figure.
Sources indicated that man was scared to disclose this before.
Stabroek News was told that one of the suspects had an ongoing feud with Thorne, which prompted his brother to intervene and allegedly threaten the suspect.
Payne, 22, called 'Scar,' of Sussex Street, Charlestown, was gunned down a short distance away from his home around 10.20pm on Tuesday.
His friend, Shekel Williams, 22, of James Street, Albouystown, was also shot once to his right foot in the attack.
The police had said that Payne was among a group of men standing on the roadway at Lyng and Sussex streets, Charlestown, when two men armed with firearms rode up on a motorcycle and discharged rounds in their direction. He was shot about the body, including once to the chest, and was pronounced dead on arrival at the Georgetown Public Hospital.
Ranks of a police mobile patrol that was in the vicinity responded and confronted the two suspects but they managed to escape after an exchange of gunfire, police added.
A post-mortem examination performed yesterday on the remains of Payne revealed that he died as a result of shock and haemorrhage due to multiple gunshot wounds he sustained.
Around the Web