The police on Sunday evening arrested a second individual, who they believe is the prime suspect in the fatal shooting and stabbing to death of Parika fuel dealer Seeram Singh.
Crime Chief Wendell Blanhum told Stabroek News that the man who is known as "Deportee" was arrested at his Parika, East Bank Essequibo (EBE) house where a search was conducted and a quantity of wet clothing was found. The clothing Blanhum said, fitted the description of what eyewitnesses said the alleged shooter was wearing on the night Singh was killed.
A woman who was arrested shortly after the incident also remains in police custody.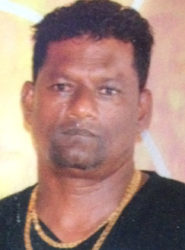 Singh, 52, called "Brother See", a fuel dealer, was shot and stabbed about his body around 9.45 pm on Saturday. The shooter escaped with four gold chains, but left behind eight gold rings he was wearing, his wallet that contained cash and his car keys.
He sustained a stab wound to his abdomen and gunshot injuries to his right ear and lower back and was taken to the Leonora Cottage Hospital where he was pronounced dead on arrival.
The police in a press release had said that Singh was walking along the roadway at Parika Outfall when a man approached from behind and shot him in his back. As Singh fell, the man shot him again, grabbed his gold chains and escaped.
Residents had told this newspaper that about half hour before the shooting, a woman who was Singh's former partner was overheard telling him, while on her cell phone: "I would stand right here and see you get your dead." At the time she was in front of a shop close to his home.
Residents also recalled seeing a "strange man" walking around in the neighbourhood two times on Saturday.
His daughter, Alesha had recalled that Singh's phone rang and he took the call and went out on a bench under a tree by the roadside. Shortly after, the killer, whose face was covered with a rag, walked up to him and dealt him a stab to his abdomen.
Alesha had said she heard someone shouting, "give me yuh chains" and her father started to scream.
She looked out but could not see clearly what was taking place because of the darkness.
A resident said he saw Singh running and then the first shot was fired. He kept running and collapsed a short distance away.
The attacker then stood over Singh and fired two other shots.
It was then that the attacker ripped off the gold chains and escaped through an empty lot in the direction of the sea dam where he had come from.
Around the Web