A police constable was yesterday granted his release on $600,000 bail after he was charged with causing the death of 10-year old Devon Sealey, who he hit with a car.
Ravinand Bissessar, 26, who is stationed at the Wales Police Station, was not required to plead to the charge that on May 15, at Sisters Village, West Bank Demerara, he drove motor car PLL 222 in a manner dangerous to the public, thereby causing the death of Sealey.
The  lad was said to have been riding his bicycle along the public road when the accident occurred.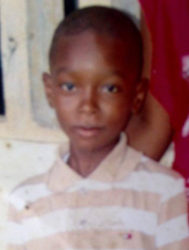 Following the accident, Bissessar was subjected to a breathalyser test, which later revealed that he was above the legal limit of alcohol consumption.
As a result of this, he was also charged with driving while under the influence of alcohol, to which he initially pleaded guilty; however, the man's lawyer Mark Conway intervened, saying that another breathalyser test was done at the hospital, which showed that there was no alcohol in his client's system.
In light of this, presiding Magistrate at the Wales Magistrate's Court Clive Nurse recorded a not guilty plea on Bissessar's behalf and granted him self-bail on the driving under the influence charge.
Additionally, the police constable was ordered to report to the Wales Police Station every Friday, while his driver's licence was suspended until the conclusion of the preliminary inquiry.
He is expected to make his next court appearance on June 22.
The fatal accident occurred around 9.15pm on Sunday on the Sisters Public Road.
At that time, police had said in a statement, Sealey was riding a bicycle along the roadway and he was struck down by the car driven by the constable.
He was subsequently rushed to the West Demerara Regional Hospital, where he was pronounced dead on arrival.
Further investigations revealed that Bissessar was found to be over the limit in terms of the consumption of alcohol, police added
Around the Web