Repeat scammer Gopaul Tiwari was yesterday slapped with another fraud charge after it was alleged that he conned a woman out of $5.4 million. But Tiwari told the court that he was in prison at the time of the alleged fraud.
The court heard that between February 1 and April 20, 2015, at Diamond, East Bank Demerara (EBD), Tiwari, 48, of Craig, EBD, with intent to defraud, took $5,400,000 from Kamini Komal by falsely pretending that he could procure for her a Lexus SUV knowing this to be false. Tiwari pleaded not guilty to the charge when it was read to him by Chief Magistrate Ann McLennan.
According to Police Prosecutor Deniro Jones, Komal was interested in purchasing a motor vehicle when she was contacted by Tiwari who convinced her that he could buy the car for her. Jones said she gave the defendant the money but never received the vehicle. Komal made a report to the police and the defendant went into hiding. According to Jones, a wanted bulletin was issued for Tiwari.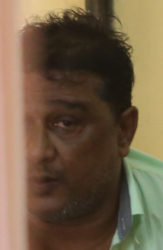 When given a chance to speak Tiwari told the court that at the time of the allegation he was serving a sentence and he is still serving a sentence. Tiwari said he knew nothing about the charge the police have brought against him.
Tiwari was sentenced to 19 years in prison on June 6, 2014 after pleading guilty to nine charges of fraud, but will only serve three years as the sentences are running concurrently.
Meanwhile, in February this year, police had charged a Crane, EBD woman, Chandroutie Tiwari, with conspiring with Gopaul Tiwari to commit fraud against Komal referencing the same facts as stated above. At that time, Chandroutie Tiwari's lawyer had told the court that there was a contractual arrangement between her and Komal.
The Chief Magistrate ordered Jones to look into the matter, given that Tiwari was in prison when the offence occurred. She also ordered that on the next court date which is June 23, the virtual complainant as well as the investigating rank should be present in court.
Around the Web