Four bandits carted off millions of dollars in cash and jewellery on Saturday night after holding the owner of Sanjay's Jewellery at gunpoint at his Sheriff Street home.
Bishnarine 'Sanjay' Persaud was entering his premises at around 11pm on Saturday when he was attacked by the bandits and forced into the house. Persaud told Stabroek News that he was returning from a night out with some friends when he was held up by the men.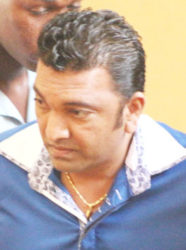 "When I opened my gate, one of the men came up and stick a gun to my waist and said 'it's a stick up' and I opened the gate," Persaud said. He related that while he only noticed one person at first, after he opened the gate at the man's command, he saw another one behind him.
"They asked me a couple of questions like 'where is the key', 'where is my gun' and I told them the gun is in my safe and the keys are in the house," he recalled. He said the two men forced him into the house to get the keys. Persaud told Stabroek News that only his mother, who was on medication and was sleeping in her room, was at home.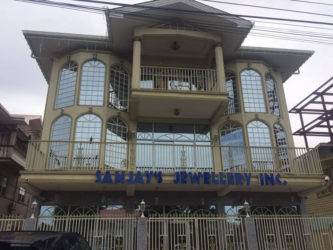 "I brought them up and got them the keys and they asked about the DVR which was in my room and they took out both of them and took them back downstairs," he said. The man said when he proceeded back downstairs, he was greeted by two other men who were also armed with guns. He said the men, who were all wearing hats and dark clothes, had a Surinamese accent, and after they took him to the store, they tied him up and raided the safe.
"They cleaned my two safe and one of them told the other to kill me and another one said no that they get everything and they escaped," Persaud said. He related that he was able to get to one of the phones and spent the next 20 minutes trying to call the police.
The police eventually arrived and freed the jeweller. While the bandits escaped with the DVR with the surveillance footage, there are other buildings around the area that might have captured the bandits on their surveillance cameras.
Persaud said that the jewellery was insured. There was no guard on duty at the store.
Around the Web