Chase's Academic Foundation student Oronde Chase, at 14 years old, has achieved what many Guyanese students are not afforded the opportunity to do until they have reached the ages of 16 and 17.
He was just 13 when he sat the Caribbean Secondary Education Certificate (CSEC) English A examination earlier this year, but managed to earn a Grade One, an accomplishment that he said came as a surprise to him. Asked what the exam was like for him, he said it was very easy, but he had anticipated getting a Grade Two or Three.
"When I got my results, I was quite shocked due to the fact that I was the youngest in the exam room and that some of the stuff on the paper I did not quite understand. But I tried my best and I came out with one of the best results," he said.
Oronde does not accept the credit for taking this commendable step, however, having stated that it was his father's idea to have him write the exam early. The teenager revealed that while his father had mentioned it to him before, he had always taken it in jest. That is, until February of this year.
Oronde received tutoring from his father and from English teacher, Franklin Langhorne. He related that he did not have to give up much of his leisure activities, but in the last month approaching the exam, he did cut back on cricket practice. Oronde represents his school in cricket and is a member of the Demerara Cricket Club.
"I want to prove to parents that there is merit in academic work and sport," his father stated. "Their children go to lessons from 5'o clock in the morning, up to 11 at night. We're destroying our children. Parents have to understand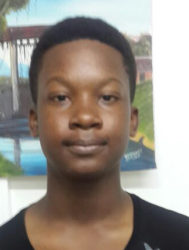 that if you love your children, you need to give them balance."
Henry Chase, owner and Principal of Chase's Academic Foundation and Oronde's father, explained that he saw potential in his son from a young age. The senior Chase, who is also an English teacher, commented that Oronde, in Grade Six, was a much better writer than many students in the 5th form class. When he wrote the National Grade Six Assessment, he was awarded 448 marks, much to his father's disappointment.
"I knew, because of his writing skills, his ability, [he] should have been [at] Queen's College," he said.
Chase said he believes there is a flaw in the primary education system, a "disparity" he called it, one that could only be made better with improved professionalism in teachers who acknowledge their roles as mentors, see potential in students and push their abilities. "I think it's time in Guyana we as teachers understand our role and responsibility. There are many times teachers bring down children, degrade them, instead of encouraging… Once you turn on that part of the brain for a child, I think it was Abbott who said it, you can't stop that child anymore."
He further stated that his intention was not only to encourage his son, but to inspire other children and parents across the country who viewed their children as failures because they did not make it into the top five schools.
"Oronde is not the brightest in class," Chase stated, noting that he had placed either fourth or fifth this year, "but he's still good enough to get a one at second form. Our teachers need to be more appreciative, accommodating, need to encourage children more. And if we can do that, to become more professional, we will be the talk of the Caribbean."
Unsure as he may be at the moment, Oronde shared that he might be interested in writing Mathematics and Social Studies in third form. With his new success, two students about to enter the second form have already been identified by Chase to possibly sit the exam next year.
"I believe in this society we don't encourage children, we don't believe in them and we have to start doing that," the Principal said.
Khishan Singh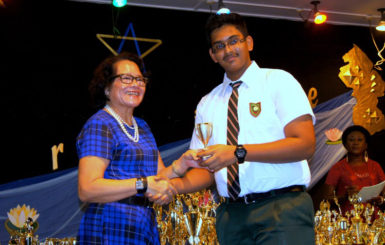 Meanwhile, Third Form student Khishan Singh, of the Bishops' High School, knew of his potential to write and pass the CXC English A and Mathematics exams, but was limited by his school's policy that prevents students from doing so until the 4th form.
Khishan's father, Komal Singh, said that soon after he entered the new form, he expressed to his parents his desire and readiness to take the exams. From October of last year, the preparations began.
Khishan wrote the exams privately and earned Grade Ones in both subjects, including two A profiles in Mathematics and A and B profiles in English.
His father said Khisan only received extra lessons in Mathematics since he is naturally talented in English.
Singh lauded his son's achievements, while adding that there are many other children like Khishan who have the capacity and ability to perform at that level at a young age and need only be granted the opportunities for early exposure. "His performance was a classic example of hard work.
Also, it shows how hard work can reap good benefits. It also shows that our children, given the opportunity, can excel at an earlier age," stated Singh.
Around the Web