Members and supporters of the People's Progressive Party (PPP) yesterday picketed the High Court for the proceedings on its elections petition to be expedited.
Bearing a placard that read, "Justice delayed, is justice denied," PPP General Secretary
Clement Rohee called for a date to be fixed for the hearing of the petition, which was filed shortly after his party lost last year's general and regional elections to the APNU+AFC coalition. The PPP has since claimed that the elections were rigged.
"We feel this is a grave injustice that was done to the electorate and the PPP supporters. As far as we are concerned, justice delayed, is justice denied…," Rohee said.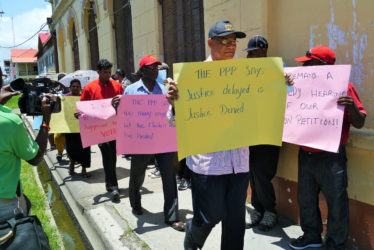 "We need our petition to be heard; we want our petition to be expedited because this is a grave injustice… They are anxious to know the outcome of the petition," he added.
The ex-parte application was filed by PPP/C MP Ganga Persaud last June on several grounds, including claims of multiple voting; voting by unregistered persons; unsealed or improperly sealed ballot boxes; the prevention of PPP/C ballot attendants and counting agents from accompanying ballot boxes; and the counting of PPP/C votes in favour of the APNU+AFC coalition.
Responding to a question, Rohee said that the substantive petition has not started as yet but a hearing against an appeal to summons that were filed questioning the petition, has been fixed for September 6.
"All that is going on is summons and counter summons, appeals and so forth," he pointed out. "We feel that this petition is being slowed down by those who have no interest in this matter being expeditiously dealt with…," he added.
He blames the justice system for the delay and said he does not see why it should not be dealt with quickly.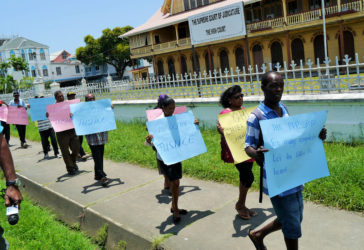 He lamented that only one petition was before the court and that when matters like that are filed, it creates a sense of uneasiness, uncertainty and anxiety among those who supported the petition.
He said PPP members plan to "continue [protesting] peacefully to demand their rights until more people become conscious." He said he believed that "more people would come around to support the petition."
A PPP member told the media that she joined the protest because she wants the hearing, which is being delayed, to be called urgently. She also shared her party's views that the elections were rigged and that the result were false because "the people turned out and voted and because some ballot boxes had more votes than what was on the list."
She emphasised that what she was asking is for the government to do a recount of one of 23 contested ballot boxes. "If you [government] know that you are clear, take one, any one you pick and just recount and we accept that we lose… Until they do that, we are not accepting that we lose…," she said.
When asked if she recognises the government, she responded that she does, but lamented that "the country is very slow. We can't even get jobs. I have two sons and they don't work and I'm a single parent. Many a days we don't get to eat."
She added: "As they say, the previous government was getting the bread and we used to get the crumbs. But with this government, we don't even see the crumbs."
Around the Web