A Tuschen, East Bank Essequibo man died last month after he was attacked by a swarm of bees while on his way to the shop in the village.
Rawle Singh, 30, of 3725, Tuschen, Phase Two was attacked by a swarm of bees three Tuesdays ago and succumbed a week later.
As Singh made his way to the shop, the bees –believed to be of the Africanised strain – attacked him which led him to jump into a nearby trench in an effort to escape from the insects. However, he was still stung multiple times.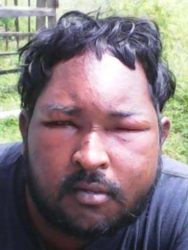 His mother, Rajmattie Etwaroo, on Tuesday recounted to Stabroek News that after her son was attacked, he was rushed to the West Demerara Regional Hospital and was admitted a patient for two days. Etwaroo said  that when her son was discharged from the hospital his face was still swollen and he could not have eaten. The mother believes if her son was admitted longer at the hospital and received further medical attention, his life could have been saved.
Singh after being discharged from the hospital had no vision in his left eye due to the swelling.
Etwaroo added that several days after being discharged from the hospital, l Singh began "vomiting blood and crying out for belly (abdomen) pain." She said she immediately took him to the Leonora Cottage Hospital where he was admitted and later transferred to the West Demerara Regional Hospital Emergency Unit where he succumbed on August 23.
According to the mother, the post-mortem result stated that he died as a result of the multiple bee stings and from mud in his lungs.
Questioned about the bee hive, she said a man visited the area and burned the hive. Although it is reported that there is no other hive in the said area, Etwaroo said there are reports in the community of another hive located in the "back street" of the community.  Etwaroo called on the relevant authorities to search the community and get rid of the bees.
Around the Web