Magistrate Rabindranauth Singh has been forced to adjourn sittings at the Springlands Magistrate's Court due to a stench emanating from the ceiling, which has been caused by an infestation of bats.
Stabroek News was told that the stench has been emanating from the ceiling for over several weeks now due to the infestation.
Two weeks ago part of the ceiling had collapsed in the area where Magistrate Singh usually sits, forcing him to adjourn court early on that day as well.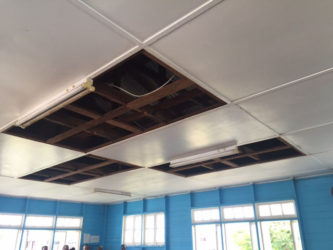 A lawyer, who was present when the ceiling collapsed, told Stabroek News that the condition of the courtroom prohibits any work from being carried out. "On the day it collapse, the magistrate got sick [and] he had to adjourn court," the lawyer said. "The stench prohibits you from doing any work," he added.
According to the lawyer, after the ceiling collapsed, the area was cleaned but the stench did not go away. As a result, both police ranks and persons sitting in the courtroom complained on Thursday, which left the magistrate with no choice but to adjourn the court early again. Due to the unbearable stench, the magistrate was once more forced to adjourn the sitting of the court yesterday after only two matters were heard.
Lawyers are refusing to work in the environment, which they consider a major threat to their health, the attorney stressed to this newspaper.
Information gathered reveals that the issue has been raised to the responsible officials on numerous occasion but nothing has been done.
Members of the public who were gathered in the court on Thursday were left pondering when the situation will be remedied, since new matters are being heard in the court daily, as well as persons who are in the locks-up and are eagerly waiting for their cases to be dealt with.
A source, however, told Stabroek News that the officials were searching for another building to house the court until the situation is remedied. This newspaper was reliably informed that the court is likely to be housed at the former Regional Democratic Council Sub-Office, located in Springlands, which is presently vacant.
Around the Web