Minister within the Ministry of Communities, Dawn Hastings-Williams and a team conducted an education outreach to several communities in Upper Region Seven  to raise awareness about child abuse.
GINA said that for three days (September 21-23,) the Minister and team, held engagements with the children, parents, community leaders and councillors  of Kamarang, Jawalla, Kako and, Kwebanna on child rights, preventing child abuse and better parenting.
The Minister noted that incidents of child abuse are on the increase throughout the 10 administrative regions, with the hinterland regions showing signs of more vulnerability.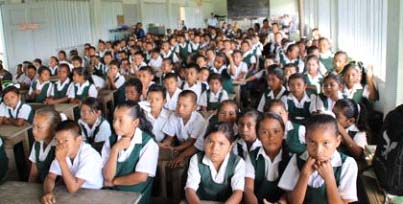 The Minister noted that "all (parents, community leaders, businesses and the police) must become involved," to stop this scourge and called on the community leaders, parents and residents to make it a topic of discussion at every forum.
The Minister urged that the community make it a decisive issue at the weekly village meetings and at the level of the different Parent-Teacher's Association meetings. The Minister also urged that these meetings discuss such issues as how to recognise the signs and symptoms of abuse and what to do if it is suspected that a child or young person has been harmed.
Minister within the Ministry of Communities Dawn Hastings-Williams
Griffith pointed out to parents that the responsibility for children also includes ensuring that they are "well taken care of" including from all forms of abuse.
"Abuse is any form of punishment or wrongdoing that has been done to a child," Griffith  explained to the children and, "if somebody beats you and leaves marks on your skin and causes you pain and you are not able to  attend school that is abuse. If somebody should touch you on your private parts, that is abuse."
GINA said that the Minister also resolved to bring to Cabinet's attention a number of issues and  concerns that were raised during the engagements including improving the living quarters of government workers in the hinterland.
Around the Web