President-elect Donald Trump appears to have very little interest in US-Caribbean relations, according to New York-based Clinical Professor Dr Carla Robbins, who recently said that the continuation of any deals would depend on the foreign affairs team he chooses.
Pointing out that during the campaign season Trump made no reference to trade deals that exist between the US and the Caribbean, the Marxe School of Public and International Affairs academic questioned whether this could be because of a lack of knowledge or the insignificant impact that the Caribbean may be having on the US economy.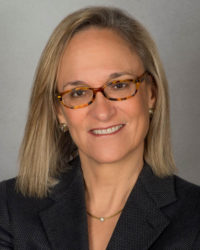 Speaking to Stabroek News after a post-election briefing with foreign journalists, held at the Baruch College, in New York last Wednesday, she asked rhetorically, "Is it because he doesn't know about them? Is it because they are so minor that one couldn't even argue that they had an impact on the US economy? NAFTA [North American Free Trade Agreement] had no impact on the US economy [but] it was an easy one to jump on because it happened under Bill Clinton" and because he chose to go after Mexico.
Stabroek News was one of two Caribbean media houses chosen to participate in an elections tour organized by the United States Department of State's Foreign Press Centre.
Asked about the possible impact of a Trump presidency on the existing US/Caribbean relations, Robbins said it would all depend on "who he puts in there. He's certainly not gonna be looking for broadening trade relationships and lowering barriers further, which has been a long tradition.
"I don't know how you build barriers with the US economy. Every single person has a cellphone…is globalized already… In the near term, I don't think he is gonna go after anybody in the Caribbean. I think all of his animus is focused on NAFTA."
NAFTA, which lowers trade restrictions between the US and Canada and Mexico, was signed by then president Bill Clinton in December of 1993. In the lead up to the elections, Trump had described NAFTA as "the worst trade deal ever" and had signalled his intention to end it once elected to office.
An author and a former journalist, Dr Robbins, speaking earlier about Trump's foreign policy, said he stood for very little when it came to international relations. "This is man who had no experience in foreign policy. This is a man who has no track record of foreign policy and this has been a campaign because of the nature of one candidate and the nature of the political debate and the nature of the frustration that we see in this election, it never really discussed the subjects of policy itself," she said, before adding that some sporadic statements were made.
She said the only constraint on foreign policy is how much can be spent. "But even then, the congress will probably go along with the idea of spending more on defence… which Donald Trump has said he wants to do but what he would actually do with that military we really don't know because he truly has no track record and there is truly almost no debate of national security reform policy issues," she pointed out.
According to Robbins, what would have to be watched closely is who Trump chooses to advise him and who he chooses for his cabinet. Pointing out that Trump would have to make a final decision soon, she said that after looking at the elections campaign one has the impression that Trump's party "really didn't expect to win.
"I think they were as surprised as the rest of us were so if you look at the shortlist that we are seeing floating around today, you would be shocked at how limited they are and one of the reasons for that… is that most of the experienced foreign policy and national security members of the Republican party came out this summer and said that the man was not fit to be commander-in-chief," she noted.
She questioned whether some of these experts who were against Trump would change their positions and offer him advice. "There are some people who are traditionally Republicans, foreign policy and national security people, who were never Trump people and they will never come back," she said. She pointed out that the president-elect has a long history of not taking negativity well and she questioned whether he will now take the advice of those who were publicly against him. "It is very hard to tell where he stands. We are gonna have to look at who he chooses and once again he has a very limited group of people who have endorsed him who do have experience on foreign policy," she said. She said that some of the foreign policy experts who are in Trump's corner are traditional internationalists.
She later said that she sees no "positives" in a Donald Trump presidency. "This is a man who ran for the presidency describing an America I don't recognize, certainly not the America of Baruch College. My grandparents were immigrants, my daughter is Hispanic. What makes America great is the fact that we are a multi-cultural society. This is a man who preached hate," she said.
Asked whether she sees America on a path to destruction under a Trump regime, she responded, "No. We are still America. We've lost it for a long time and if you walk around this school you will see where the strength of America is because everybody looks like you guys." She noted that America still has a free press and constitution.
She said what worries her is that there are no checks and balances on national security. Polls had predicted that former Secretary of State Hillary Clinton would win the presidency though by a slight margin. There were shockwaves across America and the world when the numbers showed that Trump had won and by a large margin. Trump managed to make inroads in key battleground states such as Ohio, Florida and North Carolina to win the Electoral College in the polls, which were held last Tuesday.
Around the Web