A blaze suspected to be electrical in nature gutted a mobile phone shop on Regent Street yesterday but swift action by members of the Guyana Fire Service (GFS) led to the saving of several businesses located in the same building.
The fire began sometime after 3pm inside the I-Connect cellular store, located in the C&F Mall at Lot 144 Regent Street.  The building houses two Chinese clothing stores and a Bill Express and Western Union outlet on the upper flat. None of those businesses suffered major structural damage though one of the Chinese stores was flooded.
When Stabroek News arrived on the scene, passers-by had already congregated and fire-fighters were in the process of extinguishing the blaze.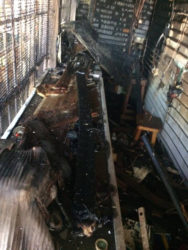 Fire Chief Marlon Gentle told reporters that after the GFS received the call, units from the Alberttown and Central Georgetown fire stations responded. He said when the units arrived at the scene they observed heavy smoke and flames emanating from the building.
Gentle added that due to iron grilles and other security mechanisms, fire-fighters were challenged in gaining access to the section of the building on fire.
According to Gentle, it was evident that there were problems with internal electrical fixtures.  He cautioned that electrical wiring on the building should be re-looked at as there is a possibility of overloading.
Meanwhile, Avenash Ramnarine, owner of I- Connect also believes that the fire is of electrical origin. He said that in the past they have had issues with wires sparking and on one occasion one of the "electrical boxes" caught fire but they managed to extinguish it before it could spread.
Ramnarine said he got a call and rushed to the building where he found fire-fighters working to put out the blaze.
The businessman went on to say that the fire is a major setback to his business since the Christmas season is almost here.  He said that only last week a shipment of new cellular phones and accessories had arrived. He could not put a figure to his losses but said it is in the millions.
Owner of the building, Peter Fraser confirmed the cellular store was the only one damaged aside from the flooring above the store.
When asked about the reports of electrical sparks and an electrical box that caught afire, he said that he never received any report from anyone of such problems.
Persons on the scene praised the fire service for the swift work to save the building.
Around the Web