Thrice was nice as Cleveland Forde completed the men's `three peat' in yesterday's 12th annual CARICOM 10K on the streets of the capital.
As it drizzled, Forde, 31, cruised to victory with a respectable time of 32m: 39s to beat out a field of more than 40 runners including his nearest competitor, Curtis Cox, 48, of Trinidad and Tobago, by 17 seconds.
Local ace runner, Winston Missigher was third in 33m: 28s.
After winning the event last year in Barbados and in St. Kitts in 2014, the Caribbean distance king was gunning for the top podium spot on home soil and did not disappoint.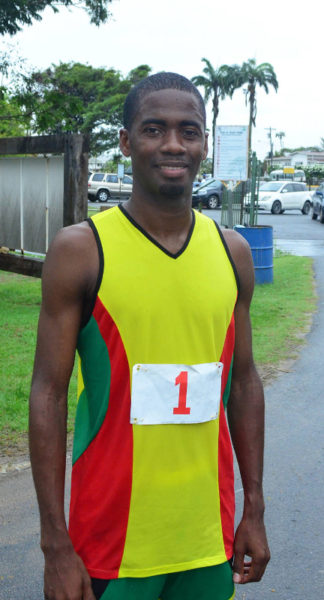 Forde was tactical in his execution of the race which started at the CARICOM Secretariat and ended in the National Park.
He bided his time initially but changed gears from Cox and Missigher about a mile from the finish line and never relinquished the lead to pocket the US$1000 first prize.
Forde said he was happy with winning the race but has hopes on running faster by breaking the 30-minute barrier.
"The focus is on running faster times" said the distance dynamo. "I would say I am definitely looking to go below 30 (minutes) but the wet road was a factor so I couldn't push it so I bided my time a little to see how the pace was moving. But I am thankful for the win."
Yesterday's top female was Linda Mc Dowall of St Vincent and the Grenadines in 37m: 57s. Guyana's duo of Euleen Josiah-Tanner (39:46) and Andrea Foster (40:37) joined McDowall on the podium to take home the second and third place prizes of $US800 and $US600 respectively.
This year, marked the introduction of a 5k running simultaneously with the 10k. The winners were Roger Peraune (male) and Joanna Archer (female). There was also a 1500m race for under-14 athletes.
At the completion of the event which was held under the theme, 'Promoting Peaceful and Healthy Societies' brief remarks were made by Prime Minister of Dominica, Roosevelt Skerrit and Minister within the Ministry of Education, Nicolette Henry.
Around the Web