Minister within the Ministry of Education, Nicolette Henry admitted that more support for local athletes is needed if they are to excel on the world stage.
As a result, she pledged the government's support to partner with athletes who will be representing Guyana at international meets.
"Guyanese can become world class athletes if given the training and exposure. The government of Guyana is committed to providing support for the athletes and we intend to support them to participate in international meets wherever they exist."
Henry's comments were made yesterday at the Main Street ministry where presentations of Commendation Certificates were handed over to Guyana's six representatives at the just concluded Olympic Games in Rio.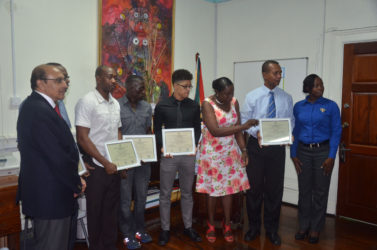 Guyana has endured an Olympic medal drought for the better part of four decades and Henry opined that with more government's support, local athletes will be much more equipped to return home with hardware from the 32nd Olympiad and beyond.
"We know that if we put in the resources, we will see results. We will partner to ensure that we provide you with the adequate support." Henry added "We need to improve infrastructure and equipment and we need to provide that support."
Henry also called for the ministry, the Guyana Olympic Association (GOA) and other partners to form a committee to
discuss and implement strategies to fast track the ascension of athletes.
This was agreed by the president of the GOA, K Juman Yassin who stated that "After today we can form a small committee to garner funds for who we feel we can make Tokyo (2020 Olympics) and beyond.
Juman-Yassin reiterated that "We need to support our athletes financially and otherwise" adding that "without high level coaches and infrastructure we are not doing anything."
The GOA head also questioned where are the lottery funds going towards after pointing out that England and other UK territories have utilized their lottery funds to enhance infrastructure and develop athletes.
Around the Web