Top government officials are expected to attend today's Rising Sun Turf Club President's Cup horse race meet at the Rising Sun Turf Club which yesterday benefited from a massive investment by the popular Trophy Stall of Bourda Market.
According to a press release, today's second annual President's Cup horse race meet, held in honour of Guyana's President, his Excellency Brigadier David Granger, will see over 80 of Guyana's top horses competing for the approximately $10m which will be at stake on the eight race card.
The event, organised by the Rising Sun Turf Club in collaboration with the Friends of Rising Sun, and scheduled for Arima Park, West Coast Berbice, will also have trophies and other incentive prizes at stake.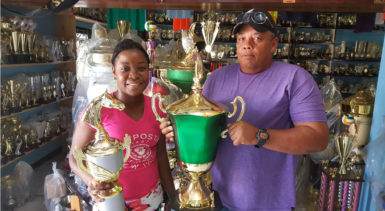 Trophy Stall, the Guyana Government, Banks DIH, Nand Persaud and Company, Inshan Bacchus Mining and Trucking Service, Jumbo Jet and Gansham Singh Lumber yard of No 6, West Coast Berbice, are the major sponsors, said the release.
The feature race of the day will be the A and Lower event over 1400m where defending champion Just Call Me Boss, will look to live up to its name and beat off the other nine starters including Princess She Not, Score Even, C.P Got Even, Jack in My Style, Lady Budapest, Brave Sky, Release the Beast, Plum Plum and the newly imported Light Up Canada running out of the Nand Persaud Karibee Rice Stable.
At stake is $1.2M and the massive President's Cup trophy which has been donated by Ramesh Sunich CEO of Trophy Stall.
Other incentives will go to the top jockey, the runner up, the top stable and top trainer compliments of Sunich of the Trophy Stall and the organizers.
Around the Web