ABU DHABI, United Arab Emirates,  CMC – Three-time World champion Lewis Hamilton set the stage for a dramatic final race of the Formula One season when he grabbed pole over nemesis and Mercedes teammate Nico Rosberg, in final qualifying at Yas Marina here Saturday.
The 31-year-old Hamilton, needing to win today's race to stand any chance of repeating as champion, was 0.303 seconds faster than Rosberg, with Red Bull's Daniel Ricciardo third.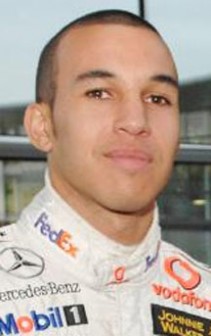 However, the odds still remained stacked against Hamilton with Rosberg simply needing to finish in the top three to snare his maiden drivers title, regardless of if the Brit wins or not"
So far this weekend has just been solely focused on getting to this position, which I truly believed I could. And obviously it worked," said Hamilton, whose paternal grandparents hail from Grenada.
"I guess [today] we'll sit and work with my engineers and strategist to full understand the scenario and what I've got to do. Obviously I want to get away and try and win this race."
Hamilton begins today's event on 355 points, 12 adrift of Rosberg on 367. However, he is well aware he will need an abundance of luck, especially with Rosberg having several paths to the title, while his remains narrow.
Even if Rosberg finishes between fourth and sixth, he can still take the championship once Hamilton fails to win and the title. The title will still be the German's if he places eighth once Hamilton is third or lower.
In fact, Rosberg could win the title even if he fails to finish, once Hamilton is fourth or lower.
Hamilton enters the race on the backs of three consecutive wins in the United States, Mexico and Brazil and said he was relaxed and confident, unlike two years ago when he found himself in a similar situation ahead of the final race of the season.
"I feel amazing. I'm sitting on pole right now so … I feel energetic, I feel confident, confident of what I've been doing in the car. It's a much different scenario to 2014," he stressed.
"Obviously the reasoning of not being able to sleep then was because I'd worked so hard during the year and again, faced lots of different challenges throughout the year and I had more wins and yet that double points system could have just thrown everything into the wind.
"But I have everything to gain [today] so it's just the complete opposite in the spectrum and yeah, [I'm] super-excited about it."
Around the Web