The Cheddi Jagan Research Centre Inc (CJRCI) has expressed gratitude to the public for the support it has received over the planned revocation by the government of its Red House lease and said it is optimistic that it has a strong legal case.
In a statement issued yesterday via the PPP, the CJRCI  said that the revocation action by President David Granger is "nothing short of an assault on the legacy of the late Dr. (Cheddi) Jagan who has dedicated his entire life to the cause for a free, independent and prosperous Guyana.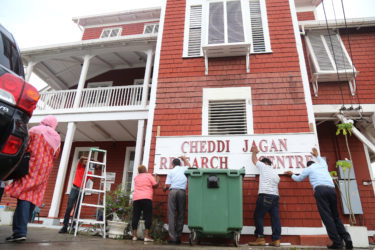 "The Management Committee of the Cheddi Jagan Research Centre strongly condemns the unleashing of known operatives from the Ministry of the Presidency who invaded the compound of the Centre and ripped off the sign from the building even though there was no legal basis upon which such action could have been taken.
"It is unconscionable and highly unfair that the Centre was given a mere twenty-four (24) hours to vacate the premises and removed over fifty years of accumulated materials and artifacts some of which are highly sensitive and delicate", the CJRCI said.
The CJRCI said it is worthy of note that the Cheddi Jagan Research Centre is a not- for- profit organisation which served as a Centre for research, documentation and storage of hundreds of publications, writings and speeches by former Presidents Cheddi and Janet Jagan.
The Centre said it wished to particularly thank the legal team headed by former Attorney General Anil Nandlall for the swift action taken to obtain from the Court a Conservatory Order restraining the government from evicting the occupant of Red House. The Centre also  expressed thanks to the leadership of the People's Progressive Party (PPP) for the support offered to the Centre.
The Centre acknowledges the support it received from several individuals and organisations  including the hundreds who have signed on to its online Petition to save the Red House.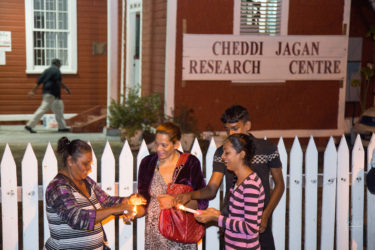 It said it was testimony to the high regard that the Guyanese people have for the late Dr. Jagan that the Centre was able to successfully organise a candlelight Vigil on Friday which attracted hundreds of people from all walks of life despite attempts by a few  opposition elements to disrupt the vigil.
It said that several other initiatives are planned by the Management Committee of the Centre to mobilise support and to sensitise the public, both local and overseas, on the "vindictive action taken by the Granger administration to revoke the lease and to take possession of the land and building."
Around the Web