The family of Raul Aaron, one of the four men who died in Wednesday evening's Linden /Soesdyke Highway crash, has been told by police that he had pulled to the side of the road to allow the vehicle that crashed into him to pass.
Aaron, 38, of Section C, Block X, Golden Grove, East Bank Demerara, who was a salesman employed at Beepats, was on his way home when the accident occurred.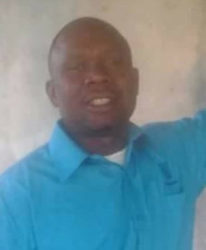 His wife, Joann Aaron, told Stabroek News that the police said he had pulled into the corner to allow HC 5326, which was driven by Alexander Primus, to pass after overtaking a truck.
According to the Aaron's widow, it was hours after the accident that she learned of the tragedy when she called his cellular phone and a policeman answered. She explained that the lawman informed her that her husband was involved in an accident and she should visit the Linden Hospital.
The grieving wife said it was when she got to the hospital that she was told he had died. She added that when she met with the policeman who had informed her of the accident, he told her what had transpired.
The woman went on to describe her husband as her best friend. She said he was a family-oriented and jovial individual. She explained that they were married for 13 years.
According to police, on the night of the accident taxi HC 5326, which was driven by Primus, was travelling to Linden, while PRR 7151, driven by Aaron, was travelling to Georgetown, when they collided. A police source explained that Primus overtook the truck but failed to return to his lane in time, resulting in the head-on collision with Aaron's vehicle that was reportedly parked.
The accident also claimed the lives of Primus, 54, and Dextroy Griffith, 22, both of Amelia's Ward, and Leron Mendonca of Linden.
Two other victims of the accident, Whitney Ann Griffith, 22, who is the wife of Dextroy, and Arletta Kellman, 47, of Lower Kara Kara, Mackenzie, Linden, remain hospitalised at the Linden Public Hospital.
Aaron was the lone occupant of his vehicle, while the other victims were passengers of Primus' vehicle who were travelling home.
Primus, Aaron and Dextroy Griffith were all pronounced dead on arrival while Mendonca died hours later while undergoing surgery.
Around the Web