A $1 billion hotel, consisting of four suites, including a presidential suite, 28 rooms, a pool, three bars and an international chef, among several other amenities, was officially declared open in Corriverton, Berbice, on Thursday afternoon.
In a short but extravagant ceremony, businessman Hareshnarine Sugrim opened the doors of the Classic Hotel and Suites to the public in the presence of several government ministers, well-known business persons and regional officials.
Minister of Business Dominic Gaskin, delivering the feature address, stressed the importance of the tourism industry. He said much more emphasis needs to be placed on tourism, "its potential for job creation, revenue generation and foreign earnings."
According to Gaskin, "Berbicians should not underestimate the contribution that tourism can make to this region's economy.
We must stop thinking in terms of a single industry and start looking to see how we can diversify. Tourism, agro-processing and other value-added activities including services must be promoted and investment opportunities created so that we can have sustainable industries right here in Berbice."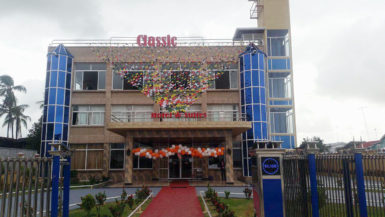 He congratulated Sugrim for stepping up to the plate and playing his part in boosting Corriverton's capacity to accommodate its visitors with a spanking new facility.
"Berbice has the longest beach I have ever seen," the minister said. "I understand that about 15,000 people are expected to visit 63 Beach on Easter Monday to fly kites. That is a serious number of people and some of those persons will be coming from other regions and even overseas. So when we speak of the projection of tourism, we speak of something that is very real and that is happening in our country."
Gaskin then stated, "If we want people to visit our country then we have to find suitable accommodations for them. And if you want people to come and to visit Corriverton you too have to find suitable accommodations for them. Guyana is an exciting and attractive place to visit and more and more people are visiting Guyana each year. Last year Guyana recorded a 12.7% increase in visitors nearly 30,000 more visitors than the previous year and that was the third highest rate of the growth out of the 28 Caribbean countries reported in the last CTO report. It was a record year for tourism in Guyana, so we will be needing hotel rooms because that growth is set to continue."
Gaskin then pointed out that not all visitors would want to stay in the capital city, and noted that there are ten beautiful regions in the country, each with its own attractions. He also highlighted the fact that not every visitor would be an overseas visitor. "Locals from other regions are also travelling in and around Guyana and therefore domestic tourism is also creating a demand for accommodation," he noted.
He stressed that the tourism sector presents viable investment options in Guyana, "and this is in all ten regions."
In closing, he made mention of the government's commitment to work along with stakeholders for the betterment of Region Six and Guyana in general, "to revitalise our productive sectors and to develop our value-added industries. This region is important to us, it has made us proud as a country many times over and has made significant contribution to Guyana and has a lot more to contribute."
'My vision'
The owner of the hotel, in an interview with media operatives afterwards, highlighted the reason behind choosing Berbice to make such a major investment.
"I am a resident of Crabwood Creek," he said, "and with this new government I was assured this country will move forward and I believe in business in Corriverton."
According to Sugrim, he has always longed to invest in and develop his hometown, though his main business is in Georgetown.
He then explained that while most of his business ventures are always strategically planned out, it was quite different in this situation. He said he was relaxing one day when the idea of building a top-of-the-line hotel in Corriverton came to him. He then stated that the name came to him in one of his dreams. "The design and everything was my vision. No one made the blueprint and gave me; it was my vision and because of that I was able to complete this in such a short period, since I am always on site," he stated.
Referencing President David Granger's call for a 'green economy,' he said that in keeping with that idea, he purchased a wind turbine in an effort to use only renewable energy to fully power his hotel, which he stressed would massively reduce the operational costs. However, he has not yet been given approval for clearance to install his turbine, which he brought into the country an entire year ago and he is baffled as to why this has not happened.
He highlighted that electricity at the hotel costs about $1 million per month and with the wind turbine he would be able to lower rates at the hotel, as well provide electricity for persons free of cost in the area.
According to Sugrim, his hotel has been fully booked for the Easter holiday. He has plans to add another 32 rooms and the foundation has been laid to accommodate such.
He also made mention of two yachts, which he plans to purchase in an effort to facilitate tours to Orealla and Siparuta and other nearby areas.
Also speaking at the ceremony was Mayor of Corriverton Hemchand Jaichand, who stated that Sugrim's investment in Corriverton shows how much confidence he has in his hometown. "Corriverton has elevated itself to one of the fastest growing towns in Guyana, which offers an attractive, exciting destination for people everywhere," he said. He mentioned its scenery as part of its potential to attract tourists.
He further encouraged members of the private sector to invest similarly. "This hotel will bring glory to the people of Corriverton… anticipating the bridge linking Guyana and Suriname will become a reality. The surge for tourism and trade will trigger off a massive influx of all nationals to our shores," he said.
Minister of Social Protection Amna Ally, Minister of Social Cohesion Dr George Norton, Minister of Public Security Khemraj Ramjattan and all others who were present were treated to a tour of the hotel, which is also outfitted with a helipad.
Around the Web