The Queen's College ground has been cleaned and cleared of tall weeds and builder's waste around two weeks after Stabroek News reported on its deplorable condition.
On April 4, Stabroek News uploaded a video to its website at www.stabroeknews.com showing the poor condition of the field. The field, which facilitates the school's sports and physical education programme, had become a mass of overgrown weeds and builder's waste.
What was once a well-kept ground had been converted into an unnavigable area since sand and other builder's waste, along with overgrown grass were covering most of the field.
According to a facebook post on Saturday, which was accompanied by pictures from Patrick Stephens, the field was cleaned and cleared by alumni.
"Two weeks ago Stabroek News featured a very unflattering article and video that portrayed the legendary QC sports field as an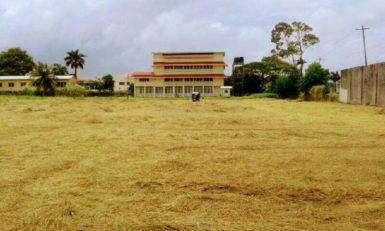 unkempt jungle. I am pleased to report that a group of QC Alumni took the initiative to fix the eyesore and made arrangements to cut the grass. Yes, there is a need for a long term program to improve and sustain the facility. But the longest journey begins with a single step and this is a very good first step in that process. The team of concerned alumni including Terrence Blackman and Chris Wilson should be complimented for their contribution and prompt response. I am confident that there is more progress to come so stay tuned," Stephens' post said.
Stabroek News had spoken with members of the Queen's College family including several teachers, present students and past students all of whom expressed outrage at the state of the playing field.
This newspaper was told that more than five years ago owner of DeSinco Trading Frank DeAbreu, who at the time was a member of the governing board, had donated $1 million for the rehabilitation of the field.
DeAbreu then spearheaded a campaign which saw the college raising an additional $2 million dollars before the end of 2012. However since DeAbreu was injured in an accident on October 21, 2012 the drive to raise $20 million for the first phase of the field's rehabilitation appears to have stalled.
Additionally the Board could not reach a consensus on whether or not to begin the rehabilitation process using the funds already available. That $3 million has for five years sat untouched and raised some $35,000 in interest.
The video had attracted a lot of attention and one overseas-based Old Student, who had wished to not be named, had related to Stabroek News that the video "is spurring quite a bit of outrage from alumni" who intended to facilitate "some action pretty soon."
Around the Web