Several drivers plying the Georgetown to Parika route (Route 32) say that they continue to be bullied by touts who operate on the bus park and are thus calling on the relevant authorities to give them assistance.
According to one frustrated minibus owner and driver who spoke with Stabroek News on the condition of anonymity, the minibus park is usually controlled by a warden who is in charge of maintaining the line system.
However, he said that the touts and drivers of "hot plate" buses do not adhere to the line system that is currently in place. "We are fed up and we are calling on the authorities to do something. Imagine we have a line system that we does follow but they (touts) don't follow the system.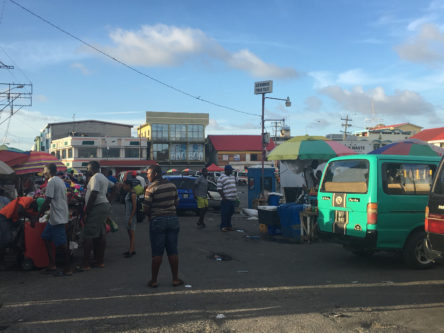 He added that there has also been a spike in the number of robberies occurring on the bus park. "Every night we witnessing a robbery out here. Up to last night a man get rob right on the park by a tout. But the touts and the police are friends so when persons go and complain to the police nothing happens."
In a recent visit to the bus park by this newspaper, touts were indeed observed pulling at several passersby in a bid to get them to go into the minibuses they were in charge of filling.
Meanwhile, another driver who also did not want to be named because he feared he would be targeted by the touts also underscored the need for the touts to be taken off the park. "They need to get the touts off this park. There needs to be a proper system whereby we can go to any high authorities because the police when they get ready they also harass you. The touts and the police they work together and they the touts go and tell the police who to come to. No one does anything," the driver said.
"We want order. Sometimes as soon as they see passengers coming they run up to them and try to grab their belongings and pull them into the bus they are fulling. Something needs to be done about this," he lamented.
One young woman who travels frequently with the minibuses also lamented the fact that the touts are a great nuisance on the bus park. "Once you pass close by and they see you looking around they come to you and they would start pull your bags. They have no respect for the passengers. Even though it is not as bad as it was a few years ago they still harass you."
For years both passengers and drivers have been complaining about the presence of the touts to no avail.
Around the Web