At a poorly attended "conversation" on the plans for metered parking in several commercial areas organized by Smart City Solutions (GeoPark) yesterday at the National Library, business owners continued to express concerns on the lack of a feasibility study for  the controversial project.
While over 260 business owners from Robb, Regent and Waters streets were invited by the company to "share their views" only three turned up.  The majority of attendees were members of the anti-parking meter group, Movement Against Parking Meters (MAPM).
In the invitation to the businessmen, GeoPark indicated that they are "continuing to work on tackling the problem of congestion in the downtown Georgetown area through a system of metered parking."
However, according to one Robb Street business owner, the company has no authority to address congestion "within this area or any area in the city."
"GeoPark ain't got no business talking to me as a Robb street businessman. Nothing you put up here can tell any one of us who deal with Robb and Regent Street about the value of metered parking. Deh ain't got no value," the businessman argued.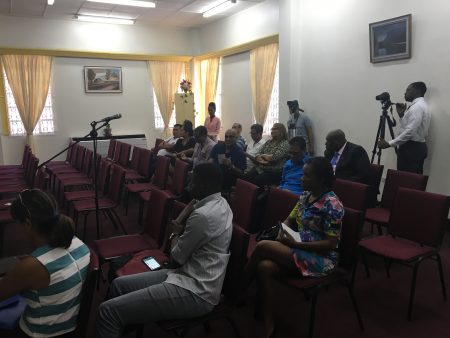 He added that when the parking meter project commenced, many businesses saw a decrease in sales. "There is direct correlation between busyness and business. No busyness equals to no business. We all saw our business sales decrease by 30 to 40 percent when the parking meter came out. So the proof is in the eating. Not what you can put up there."
One representative of MAPM, Marcel Gaskin also questioned the authority of the company. "…Who authorized GeoPark to deal with congestion? I know GeoPark has a contract to install parking meters. I don't see any contract that says you were mandated to tackle congestion."
One attendee argued about the lack of a feasibility study. Referring to the Mayor and City Council's paid parking lot at East Street, she said that, "No one is using it. It is not working. I don't know how they are making money. That is a system that has been shown to fail because they didn't consult, they didn't do a feasibility study. You have a system that has failed. So why put up parking meters when it has been shown to fail over the past few months that we have been arguing against it. There is ready evidence about what it has done to businesses and it is not only businesses, we had vendors and taxi drivers standing up with us…people lost money."
According to another attendee, the issue of the feasibility study was important from the inception along with proper consultations.  "You are trying to perfume something that is putrid…should have been having conversation. The project will not ever work by perfuming putridity. [You] need public buy in."
Bullyism
Questions were also raised as to whether GeoPark has any authority to conduct conversations at this time. "What is the purpose of this meeting other than to show a bullyism presence by GeoPark to intimidate the citizens of Georgetown…there is no reason for GeoPark to be having a conversation with anybody. That is the purpose of city hall," one attendee said.
However, according to public relations officer for the company, Alex Graham the conversation was conducted on the basis of GeoPark being an interested party.
""I don't believe the conversation is based on any presumed authority. GeoPark is at the moment until such time, if and when the contract will be suspended, they are in a contract right now and so there is a basis for which we can invite you to a conversation. The invitation does not require a specific authority to have a conversation…This is not a demonstration of any particular authority…It is a conversation organized by an interested party."
One businessman Komal Ramnauth said that he is of the belief that the project will come back again however it is going to continue being met with resistance. "I believe that meters is gonna come back in one form or the other and it is not going to be affordable and we are going to go back to where we started and we are going to be back on the streets. Because we are not going to let this pass just like this. It is not about it affecting the business people, it is about the masses."
Meanwhile, Graham informed that with regards to decisions being made on the way forward, the views expressed by the attendees yesterday will have to be factored in.
Earlier this year, the controversial metered parking project that was implemented by the city was halted by the government following a public outcry and almost seven weeks of protest organised by the MAPM calling for the contract to be revoked. MAPM has argued that the contract was negotiated and signed outside of local procurement laws and is thus illegal.
In March, communities minister Ronald Bulkan had announced that he had signed a new order to effect the suspension of the parking meter project for a period of three months.
Stabroek News had also reported last month that the council had voted to give the metered parking committee until the end of this month  to complete the renegotiation process.
According to Team Legacy councillor Malcom Ferreira, who chairs the renegotiating committee, during the extension that was granted, the committee hopes to receive from the parking meters company, Smart City Solutions (SCS) several documents including a socioeconomic feasibility study to better guide their negotiations.
Around the Web