Police are on the hunt for two men who robbed a pensioner during the wee hours of Sunday morning at her home in Eccles, East Bank Demerara.
The injured woman, Rohnee Mithuram, 78, told reporters she was asleep when the men broke into her home around 3 am, and tried to stifle her by placing a pillow over her face.
The woman, who was still visually traumatized, said she awoke up unable to breathe freely and the men removed the pillow and asked for money and jewelry. "Meh tell them me is a pensioner and meh beg them leh them na do me nothing. Me tell them a bag deh there let them take it but don't do me nothing," she lamented.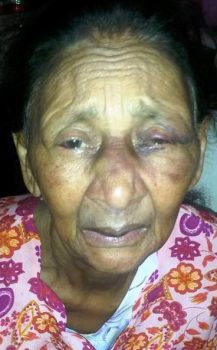 According to the woman, the bag contained three finger rings, $6,000, her passport, her pension book and her identification card. She explained that the $6,000 was what remained from her pension and she would have used that to survive for the rest of the month.
Mithuram, who lives alone, said that immediately after the men escaped, she went outside and called for neighbours but her calls were in vain as everyone was asleep. "When it was day clean, I was sitting on the chair outside and a pandit come and I tell he what happened," she recounted.
She added that it was the pandit who contacted her family and they took her the Diamond Diagnosis Centre for medical attention; she was treated and sent away.
During the ordeal, the elderly woman explained, she was beaten by the two men as they demanded cash and jewelry.  She recounted that the men choked her and cuffed her about her body resulting in an injury to her face which bled profusely. She is still suffering from severe pains.
Meanwhile, Mithuram said this was not the first time she was robbed, but it was her worst experience as in the past her attackers would only demand valuables and escape after they would have received it.
Around the Web