Sharing a press conference with the  Guyana Telephone and Telegraph (GTT) , Public Telecom-munications Minister Cathy Hughes yesterday condemned the vandalism of the company's key fibre optic cables.
On Wednesday in a statement, GTT said that it had incurred costs of some $50 million for lost productivity and in repairs to its infrastructure over the last year which it said had been damaged by vandals.
Speaking at the press conference yesterday at the Ministry of Public Telecommunications  at Colgrain House on Camp Street, CEO of GTT, Justin Nedd said that the damage to the "nation's infrastructure" was done by "criminal minded organizations or individuals" who do not want to see the country progress.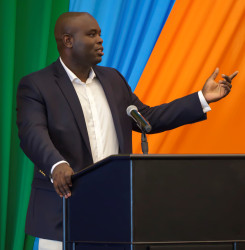 Nedd said that the recent spate of "sabotage," has seen four separate "significant cuts" to the company's fibre optic cables across the country.
"More so, over the last 12 months we have seen or expended over $50 million for lost productivity and repairs to such infrastructure. Not counting the losses to businesses and the homes that are without connectivity as the teams try to repair this sabotage," Nedd pointed out, while stating that the money that was spent on the repairs could've been used to provide broadband internet service to more homes across the country.
Going back to 2010, when the company had landed the subsea fibre optic cable, which he said was sabotaged, Nedd explained that it is no coincidence that these attacks are being done when the company is making significant progress in the ICT sector.
"…Now we are launching the fastest internet in the country with our 50Mbps downloads – internet that is comparable or faster than most places in the US and Canada and we are seeing an increase in sabotage," Nedd added, while pointing out that he is of the opinion that the attacks are being orchestrated by persons who "know what they are doing."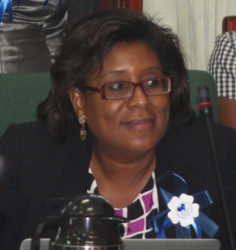 He said the attack on the company is an attack on the people of Guyana and an attack on the 22,000 people that the company will serve with its  high-speed internet in 2017.
According to Nedd, Linden, Mahdia, Mabura, Bartica, Kwakwani, Ituni and other areas along the Linden-Soesdyke Highway were affected by the recent attacks but service has since been restored. In response to a question,  Nedd explained that the damaged fibre optic cables have no value.
"It's not like copper that can be melted and sold," he said, while pointing out that it doesn't make sense for anyone to cut or destroy the cables since they will essentially be  broken glass with no value. As such, he said that while the cables are properly secured and protected, the persons who are destroying them are knowledgeable about the cables and "know what they are doing."
Hughes told the press conference that it was a sad day since the government and GTT are trying to roll out innovation and improvement in the ICT sector, but "there are elements who seek to thwart these developments."
She emphasized that vandalism of any overhead, underground, subsurface cable or any other of the ICT sector's infrastructure is a criminal offence with possibly two years of imprisonment.
"I feel sad because we are working hard on one end to ensure that we can connect as many places in Guyana. I've been talking about using the internet for health, telemedicine, online learning. We are talking about students today that can only submit their SBAs [Student Based Assessment] for CSEC online, and therefore anybody that is callous and uncaring to cut a cable that prevents people in the event of an emergency that they can't pick up a phone to make a call… is totally unacceptable," she bemoaned, while stating that the full extent of the law will be enforced to ensure that the incidents do no repeat themselves.
Hughes said that if the incident is by chance "some warped sense of competition," then she wants that in the spirit of fair competition and trade, everyone should be allowed to conduct legitimate and responsible business in the sector, in order to bring much needed service to the country.
She also added that she was imploring  persons who drive large trucks to be wary of their environment and the wires hanging overhead. She said that there are too many cables being ripped down by large trucks on a daily basis, and as such, drivers need to be more vigilant and responsible.
"If you want to see this country grow and if you want to help GTT and myself, then we must be able to depend on you to report any suspicious activity and to share any information you may have," she added.
When questioned whether there were any suspects, Nedd said that since the matter is a very active investigation he did not want to divulge any information. However, he maintained that whoever was responsible for the "sabotage" was very aware of what they were doing.
Hughes warned persons or entities that might feel that such actions might give them an advantage or put them in a better position to compete when the ICT sector is completely liberalized to rethink their actions.
"At the end of the day it is important to recognize that the new Telecommunications Agency will have the responsibility to issue new licences," she said, while pointing out that should information be revealed identifying any singular entity then they would be affected when it comes to being granted licences.
GTT is offering a reward of $1 million for information leading to the arrest of any person(s) who have been vandalising their fibre optic cables.
Around the Web