A prison warder and her brother are now contemplating their next move after a fire of unknown origin completely destroyed their Sophia home just after 2pm yesterday.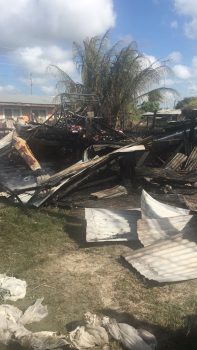 Matthew Gravesande, a construction worker, told Stabroek News that he resided in the Lot E71 North Sophia single-flat wooden house with his sister, Yolanda Persaud, a prison warder attached to the Lusignan Prison.
Stabroek News understands that it is suspected that the fire started in one of the bedrooms of the house.  At that time, neither Gravesande nor Persaud was home. They managed to save nothing.
Gravesande said he was at work when he received a call from a neighbour informing him of the fire. As a result, he said he immediately left for the scene. By time he reached, the house was already completely engulfed in fire.
The distressed man said that it is unclear what might have caused the fire while noting that before leaving for work, they unplugged all the electrical appliances.
Neighbours said they were alerted after they noticed smoke coming from the house. They immediately formed a bucket brigade in an effort to put out the blaze but were not successful.
The fire service was summoned and later arrived. However, by that time the house was almost completely burnt.
An investigation has since been launched to determine the cause of the fire.
Around the Web