During a farewell courtesy call yesterday from Surinamese Ambassador Mehroen Nisa Kurban-Baboe, Minister of Foreign Affairs Carl Greenidge said that the neighbouring states had enjoyed a high level of interface, which had been further aided by the Ambassador during her tenure.
"I hope to see the continuation of dialogue and the deepening of understanding between Guyana and Suriname," Greenidge stressed in a release from his ministry.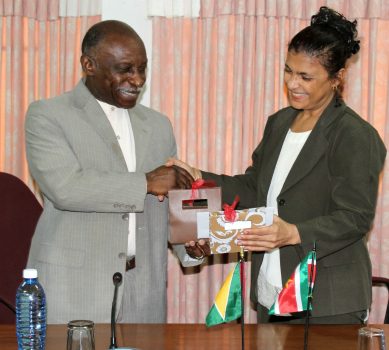 The level of interaction between Guyana and Suriname had enabled the organisation of recent productive meetings between President David Granger and President Dési Bouterse, Greenidge further noted.
Part of the outcome of those discussions was the decision to appoint special envoys who will be responsible for ensuring  relations between Guyana and Suriname remain focused on collaboration in areas of the environment, agriculture, trade and tourism, and oil and gas.
Kurban-Baboe expressed her desire to see relations between Guyana and Suriname continue to flourish beyond her tenure. She also highlighted the efforts of the Guyana-Suriname Cooperation Council, which reconvened earlier this year.
"The relationship has been fruitful and we are looking forward to another meeting of the Cooperation Council," Kurban-Baboe said. She has been here for four years.
Around the Web