The work on the Kitty Seawall sinkhole and its surrounding environs will to be completed soon as an official from the Ministry of Public Infrastructure has said that the project is now 65% complete.
The official relayed to Stabroek News that most of the galvanized pipes have been laid and encased in a concrete structure. Once all of the pipes have been encased in concrete, the gaping holes will be filled with material, compacted and covered with asphalt.
For the first phase of the repair works where the sinkhole had developed, crusher run has been laid on the area, as the contractors prepare to cover it with layers of asphalt.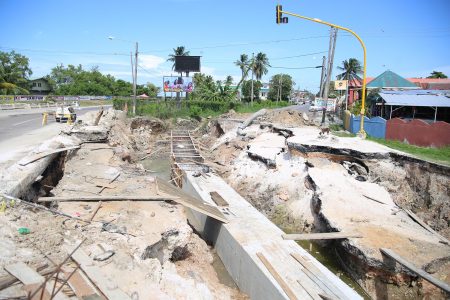 Head of the Work Services Group of the Ministry of Public Infrastructure (MPI) Geoffrey Vaughn had explained a few months ago that the works had been delayed due to the prevailing inclement weather at the time. The $142 million contract for the repairs was awarded to Colin Talbot Construction Services group which had been expected to commence the project at the beginning of March.
"We need to replace several pipes that are under the road around the area and a provisional sum is in the bill, in case of added works when the whole surface has been opened up," Permanent Secretary of the Ministry of Public Infrastructure Geoffrey Vaughn had said at the time, whilst adding that when the workers get under the road they might discover that the damage is actually more severe than initially projected.
A small sinkhole had developed late in December, and the MPI and the City Council had collaborated and enlarged it in order to apply a temporary fix to the problem. One of the engineers had explained to Stabroek News that the depression in the road which had caused the sinkhole, was due to a burst galvanized pipe letting water under the road.  Because of the excess water interacting with the earth, the road had caved in, thus creating a traffic hazard at the junction.
The city had applied a temporary fix to the pipe in order to stop the flow of water. However, a week later, a few more depressions appeared on the road, several feet away from the sinkhole, suggesting that the temporary fix had not addressed the main issue.
Around the Web