The Central Housing and Planning Authority (CH&PA) is currently in talks with a brick making factory in Linden to supply blocks made from indigenous materials, which could see houses being built in the mining town at a reduced cost, Chief Executive Office Lelon Saul has revealed.
The CH&PA plans to build approximately 60 houses in Linden as part of its countrywide housing drive.
Speaking to Sunday Stabroek last Thursday, Saul said that while the plan is to commence building shortly, CH&PA is looking to use calcine bauxite blocks and laterite blocks, which are both made of indigenous building materials to construct the houses. He noted that the CH&PA is interested in these building materials as if used the cost of constructing the houses will be reduced. "We recognise that in Linden it would be possible for us to do that because of the availability of material to do that there," he explained.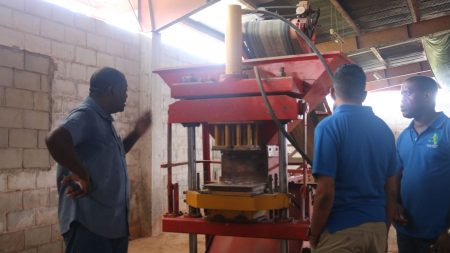 Saul added that during a recent trip to Linden, he and other CH&PA officials visited the block making factory, which is owned by Robert Cameron, a remigrant. The factory makes both calcine and laterite blocks.
According to Saul, a pressure system is being used to make the blocks and CH&PA is awaiting lab results to determine if the blocks being produced meet the required standard.
Meanwhile, Saul also said that the CH&PA is working to rectify identified issues regarding land allocation in the Amelia's Ward area of Linden. He explained that there are instances where the parcel number for some lots was allocated to more than a one person, as well as a few lots having more than one parcel number. He assured that the agency is working to rectify that situation.
Around the Web