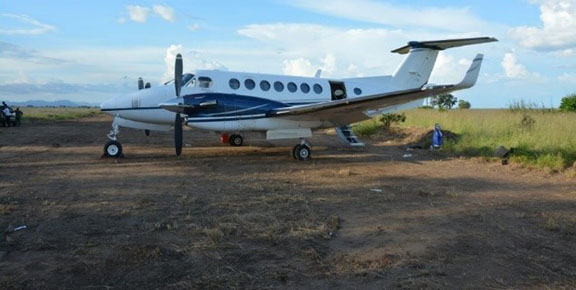 Brazilian authorities are claiming that the abandoned aircraft that was discovered on the illegal airstrip near Santa Fe, in Region Nine in August, was stolen, Minister of State Joseph Harmon said yesterday.
During a post-Cabinet press briefing, Harmon said that a request was made to the Brazilians to provide some information on this allegation to the Minister of Foreign Affairs.
This, he added, has not been forthcoming.
Harmon also announced that the police investigation into the discovery has been completed and a report with recommendations was sent to Minister of Public Security Khemraj Ramjattan.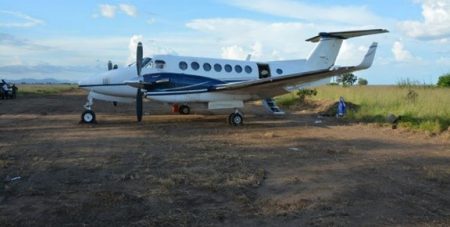 Ramjattan said yesterday that he has not yet seen the report. On August 14, the Guyana Police Force reported the discovery of the twin-engine Beechcraft, which followed almost a month of reports of a foreign aircraft frequenting the North Rupununi area.
According to the police, a quantity of dry rations, medical supplies, men's clothing and footwear, two hand-held radios, flashlights, cellular phones and an identification card were among the items found on the aircraft.
Sources had told this newspaper that the plane, bearing registration PR-IMG, was linked to Riwa S.A Incorporacoes, Investimentos e Participacoes, a Brazilian company which had leased it from Banco Bradesco, one of Brazil's  largest banking companies.
Harmon had said two weeks ago that reported collusion between police ranks and the persons who escaped from the aircraft shortly after it landed was being investigated. He had confirmed that there were reports of collusion. "There is some information available to the authorities which is suggesting a certain level of collusion and that information we take very seriously and it will inform the way in which we deal with the actual deployment of ranks," he had said.
Wasim King and Nathan Hamilton, both residents of Lethem, have since been charged with allegedly helping to build the illegal airstrip on which the aircraft was found.
Around the Web