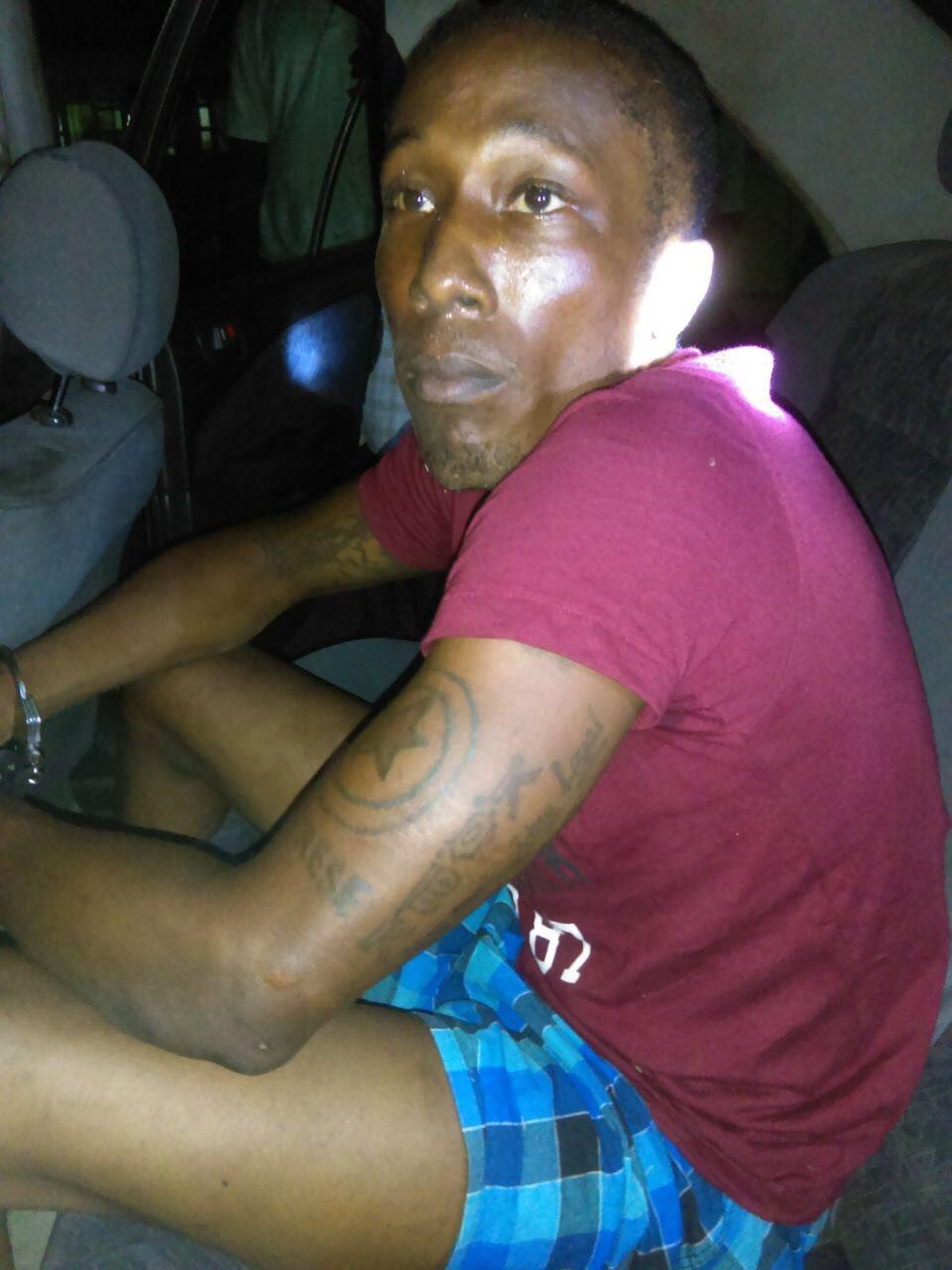 Four suspects have been identified in the leakage of a nude photo of recaptured convict Mark Royden Williams which was taken while he was being processed on Monday at the Camp Street Prison, Acting Prison Director Gladwin Samuels said last night.
"The investigation is active. There are suspects. [We are] working to narrow [them] down", he told Stabroek News.
A nude photograph of Williams, with his hands handcuffed and feet shackled, was posted on Facebook on Tuesday. In the photo, Williams is seen holding a bottle of water over his privates. It is unclear when the photograph was taken.
Samuels made it clear that the photograph was intended for updating records pertaining to identification marks. Williams has countless tattoos about his body.
"That for some strange reason was not respected which resulted in the outward circulation of the restricted photo", he said.
It was pointed out by observers that the photographing of his body should not require Williams to be in the pose that he was photographed in. The distribution of the photograph is a gross violation of the prisoner's rights and offending of his dignity. In 2009, a boy tortured in a police station was similarly photographed, most likely by his torturers, and the photograph circulated.
Earlier in the day at a press conference hosted by the Ministry of Public Security Khemraj Ramjattan, Acting Police Commissioner David Ramnarine while expressing his concern at the leakage of the photo made it clear that the photo was taken during Williams' interview at the prison. He explained that once taken there, a directive was given for his clothing to be removed so that the tattoos he had about his body could have been photographed. "Some insensitive, irresponsible person decided to do just more than that", he said, adding that Samuels has confirmed that an investigation has been launched.
Guyana Police Force Public Relations Officer Shivpersaud Bacchus, in a statement hours after the photo went viral said even though the stripping of inmates is done for identification purposes, such as to document distinguishing features like tattoos, the leaking of the photo cannot be condoned.
Bacchus said the "grossly unethical, irresponsible and insensitive" act was committed within the prison environment during the period when Williams was being processed and prior to his placement in a cell.
Williams, known as 'Smallie,' was intercepted and recaptured at around 8pm on Monday by the police along the Weldaad, West Coast Berbice Public Road.
The police had said that at the time he was travelling in a public minibus heading east. He was alone and unarmed.
Williams was seen as the most dangerous of the prisoners who escaped from the prison on July 9. The prison was almost gutted and a prison officer killed. He had been sentenced to death earlier in the year over the 2007 Bartica massacre.
Around the Web