Minister of Public Security Khemraj Ramjattan yesterday said the recent reassignment of Senior Superintendent of Police Wendell Blanhum, from Crime Chief to Deputy Commander of 'A' Division, is not a demotion.
"The reassignment of police ranks is something very common in the police force and if at this juncture the [acting] Commissioner is of the opinion that he will be better assigned to the Deputy Commander of 'A' Division, that is where he will go," Ramjattan told reporters.
Blanhum was reassigned on Monday when he returned for duty after spending almost three months of accumulated leave.
Commissioner of Police (Ag) David Ramnarine told Stabroek News on Monday that it was his decision to have Blanhum reassigned. "…At this point in time it was my decision to have him repositioned because the current Crime Chief Mr Paul Williams has started the Christmas season and he is involved in certain strategies that I would like him to continue until the period is over," he said.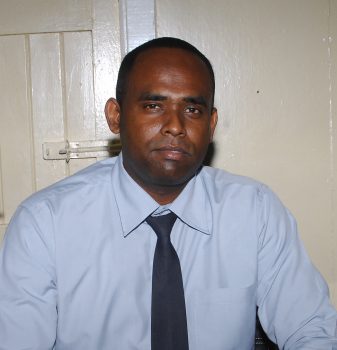 Blanhum's reassignment is being seen as part of a move to implement recommendations of the Commission of Inquiry (CoI) into the alleged plot to assassinate the president. The CoI had specifically recommended that the officers that played a key role in the investigation of the alleged plot, including Blanhum, be reassigned, possibly to positions outside of the police force based on their conduct.
Ramjattan said yesterday that while there was speculation in the past that the government was getting rid of Blanhum after he proceeded on leave, this was not the case. "Absolutely not and we have not demoted him," he said.
The minister added that he did not wish to get involved in the roles of the police commissioner and how the force operates. "I deal with policy and my policy is that indeed not to interfere with operational matters and that is what happened here. I indicated to Blanhum let him take his leave because he was supposed to get a lot of leave. He took his leave and he is back," he explained.
He also maintained his opinion that Blanhum had been an absolutely competent Crime Chief. "He solved a lot of crimes… I am not going to take back that but if the Commissioner feels that he could get some more experience there or at least be reassigned for some other good reason, so be it. Or, for the continuation of what we presently have ….by the present acting Crime Chief Paul Williams—why not?" he further said.
Blanhum had proceeded on leave less than two weeks after President David Granger's declaration that the CoI into the alleged assassination plot against him had exposed serious deficiencies and weaknesses in the Guyana Police Force.
Granger had also declared that he thought it was "unacceptable" to come to conclusions about the alleged plot before the completion of the investigation. "I think it is completely unacceptable for any public official to deem the allegation or the intention of the plot to assassinate the president of any country as being inherently incredible …that a person who [was] appointed to conduct an investigation, before completing the investigation to come to such conclusions," he said, in an apparent reference to Blanhum's testimony before the CoI, in which he had called the allegations of the assassination plot "inherently incredible."
Blanhum at the time was responding to the question of how he viewed the allegations made by Andriff Gillard, who claimed he was offered $7 million by his neighbour, Nizam Khan, to carry out the assassination. "I would say with the greatest amount of respect, it is my humble opinion that the allegation made by Gillard against Khan is inherently incredible," Blanhum had stated.
Due to the proximity of the president's criticism and Blanhum proceeding on leave, speculation arose that he had been sent on leave because of the findings of the inquiry.
However, Ramjattan sought to dispel the notion.
"I notice a lot of people are saying that we are trying to get rid of Blanhum. Blanhum is a serious pillar in this police force… understand that and he has done a fantastic job in the opinion of the government, in the opinion of the minister," Ramjattan he had told a press conference.
The minister had also said at that time that he needed Blanhum back as Crime Chief for the Christmas season, when there is usually a spike in crime.
The CoI report had concluded that Commissioner of Police Seelall Persaud's ability to continue to hold the post has become "untenable" and recommended that he should be made to resign under terms considered appropriate by President Granger, or if he fails to do so, be removed for misbehaviour.
Persaud, who was due to resume his duties after four months of leave, was directed by Ramjattan to once more proceed on special leave in the public interest. Although Ramjattan clarified to Stabroek News that Persaud will be proceeding on 56 days of annualised and pre-retirement leave, after which he will return to office, he has been accused of overstepping his authority by issuing the directive.
Around the Web