Police at Eteringbang on the Cuyuni River are probing the death of a North West man who was allegedly beaten to death on Friday evening.
The deceased has been identified Owen Williams.
Police Commander of F Division (Interior Locations) Ravindradat Budhram yesterday confirmed the death and said the killing is being treated as a murder. He explained that the suspect, who was taken into custody after the death of Williams, is being questioned.
According to the police commander, on Friday the suspect and Williams were consuming alcohol when an argument ensued leading to a fight. As a result, Williams was badly beaten and later succumbed as a result of his injuries.
Stabroek News was however told that the argument which led to the death of Williams, started after Williams asked the suspect for monies owing to him.
Budhram noted that they are continuing investigations and a post-mortem examination is scheduled for today.
Comments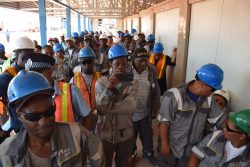 With the jobs of over 500 bauxite workers hanging in the balance because of US sanctions against Russian billionaire Oleg Deripaska, government ministers yesterday flew into Kwakwani to assure them that there will be minimal impact on their lives.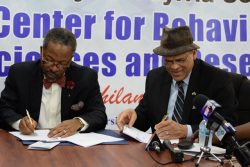 The University of Guyana has signed an agreement with the US-based Jay and Sylvia Sobhraj Foundation to refurbish and convert the building that formerly housed the Spicy Dish restaurant into a state-of-the-art behavioural studies and research centre at a cost of US$400,000 or some $80 million.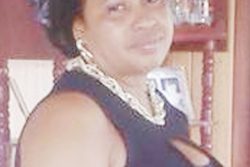 The community of Good Intent, West Bank Demerara, is in shock after a man allegedly strangled his partner before apparently  attempting to kill himself by slitting his throat.
More than 9,000 gallons of gasoline and diesel have been seized for this year alone, according to the Guyana Energy Agency (GEA), which has also recorded seven discoveries of illegal fuel so far for 2018.