With a larger emphasis on women's development geared for 2017, the Guyana Football Federation (GFF) is likely to appoint a female to the helm of the Lady Jaguars senior program, in the process replacing long serving tactician Mark Rodrigues.
According to sources close to the federation, "A female national coach is supposed to be named between the period of February and March to head the women's arm. They are looking for someone to be staying in Guyana"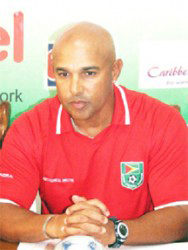 The sources further revealed, "The person is not only going to be the Lady Jaguars' national coach, but also be a part of the national staff and integral to the female developmental program of the Technical Director Ian Greenwood".
Asked if the former Women's Coach Mark Rodrigues will be afforded a position in the program, the sources purported, "Mark Rodrigues' contract with the federation is expired and the federation will be going in a different direction".
Rodrigues has been at the helm of the program for several years. Under his tutelage, the women's program became the first national team to qualify for the CONCACAF Gold Cup.
Guyana defeated Cuba 3-1 on July 3rd, 2010, at the National Stadium at Providence, to qualify for the 2010 Continental Championship in Cancun, Mexico, which was staged from October 28th to November 8th, 2010.
However sources indicated, "We are looking towards a Guyanese in the diaspora, someone who would have left and want to comeback. Ultimately, the long term ambition of the federation is to have a Guyanese at the helm who is experienced and would have gained the requisite certification".
"A local Lady Jaguars team from the recent developmental league will be selected to play a friendly with Suriname or Trinidad and Tobago. Then we will integrate them with the overseas players for the larger friendly matches," they further added.
The Lady Jaguars most recent international engagement was on February 16th ,2016, in the CONCACAF Olympic Qualifying Tournament held in the United States of America.
Placed in group-B, Guyana failed to advance out of the group stage, finishing with a record of one win and two losses.
In their opening match on February 11th, the Jaguars loss 5-0 to Canada, before rebounding three days later with a 2-1 win over Guatemala. However, they were eliminated from the event on February 16th, following a 5-1 defeat to arch-rival Trinidad and Tobago.
Around the Web