All roads will lead to the National Gymnasium on Mandela Avenue tonight, when the quarterfinal round in the 2nd Petra Organization Futsal Championship commences with four pulsating matchups.
The highlight of the night's proceedings at 23:15hrs will pit Sparta Boss against familiar foe North East La Penitence in the always physical 'East La Penitence' derby.
Inconsistency has highlighted the Sparta Boss championship effort with the numbers pointing to a side yet to hit the heights often noted for.
Offensively, Sparta has scored 13 goals with Devon Millington, the event's top marksman, leading the way with eight.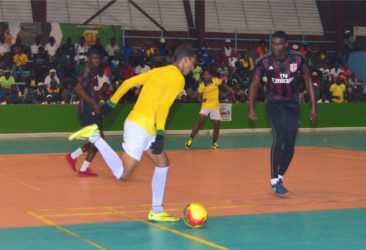 Gregory Jackie Chan' Richardson has three goals while Sheldon Holder and Cleon Forester have netted twice. For North East La Penitence, recent recruit Omallo Williams is the main threat with four goals out their collective 11 strikes.
The duo of Calvin Moore and Romario Andrews also provide a scoring threat with three and two goals each while Kelvin Moore and Shaquille Browne have each netted once.
From the defensive perspective, North East La Penitence possess the best record with only four goals allowed. Sparta has allowed six goals in.
Meanwhile, the first contest at 21:00hrs will pit Sophia against Tucville. Statistically, both teams are almost identical with Tucville proving the slightly better offensive threat and Sophia marginally owning the defensive record.
Tucville has fashioned 15 goals in their four matches with Jermaine Junior the event's second leading marksman compliments of six conversions.
Dennis Edwards has also provided able support with four goals while Delon Williams, Jahal Greaves and Tefon Daly have scored two, two and one goal apiece.
In the case of Sophia, 14 goals have been scored thus far. Akeem Jaikissoon and Dwayne Lowe are the leading threats with three goals apiece.
Desmond Cottam has provided a creative spark with his two goals while, Shem Arthur, Sheik Kamal, Orlando Jordan, Simon Emmanuel and Joshua Kamal have each scored once.
Defensively Sophia has shipped in eight goals compared to the 10 goals conceded by the Tucville rearguard. In the second fixture at 21:45hrs, defending champion Bent Street will engage Gold is Money.
Bent Street has been the most dominant team since the event's inception, with their numbers serving as evidence.
Offensively, Bent Street lead the scoring chart with 21 goals. Even more impressive is that each player has scored at least once for the holders.
Colin Nelson and Konata Manning have four goals each while Joshua Browne, Okeene Fraser and William Europe has netted three, two and two goals respectively.
The other six goals for the undefeated unit have come off the boots of Anthony Abrams, Wendell St. Hill, Kelsey Benjamin, Dwight Peters, Sheldon Profit and Sheldon Holder.
For Gold is Money, their strike-force has fired in 15 goals. Carl Tudor and Randolph Wagner have scored five and four times apiece while Roy Cassou, Jamal Pedro and Andre Webber have netted three, two and one goal each.
On the defensive end, Gold is Money has conceded five times, which is the second best record in the championship, marginally better than their opponents who have allowed seven goals.
At 22:30hr, Broad Street Bullies will engage the other remaining undefeated side Back Circle. The youthful Back Circle unit has been a revelation in the tourney and has displayed their championship mentality following a come from behind 3-2 group win over Sparta Boss.
On the attacking end, the East Ruimveldt giant has scored 14 goals led by a five goal haul from Stephon McLean.
Selwyn William, Sylvester and Akeemo Anthony Richardson are the next best scorers with three, two and two goals each, whilst Keron Joshua and Curtez Kellman have netted once.
In the opposite corner, Broad Street has bullied their way to 15 goals led by rising stars Kieron Solomon, Darren Benjamin and Lennox Cort with four, three and three goals correspondingly.
Kevin Cummings has also been amongst the goals with two conversions whilst the trio of Jimmy Gravesande, Jamal Cozier and Rocky Gravesande has netted once each.
In terms of their respective defensive qualities, Back Circle has been breached five times compared to the six concessions of Broad Street Bullies.
Prior to the commencement of the aforesaid fixtures, two exhibition matches will occur. At 20:15hrs,  Green Ice Taxi will oppose Pretty Posse Taxi while Upper Level Barbershop will match skills with Customs from 21:00hrs.
The winning team will collect $400,000 and the championship trophy while the runner-up will pocket $200,000 and the corresponding accolade.
The third and fourth place finishers will collect $100,000 and $50,000 respectively and the respective accolade. The event is slated to conclude on April 15th.
Around the Web