A number of schools on Sunday, during the innings break between West Indies and Pakistan, participated in the customary Scotiabank Kiddy Cricket interval display as spectators got the opportunity to cheer the youngsters on as they went through a number of cricket activities. Over 100 enthusiastic young boys and girls participated in the on-field skills display, accompanied by 'Chirpy' – the larger-than-life, fun-loving mascot.
The kids, smartly attired in their specially designed "whites", which were supplied by Scotiabank and the West Indies Cricket Board, took to the field with broad smiles painted across their faces as they interacted with a number of coaches and their peers alike.
The aspiring young cricketers were invited from North Georgetown Primary, Leonora Primary, Enterprise Primary, Saint Pius Primary, Redeemer Primary, Blairmont Primary, Greenwick Park Primary and New Diamond Primary.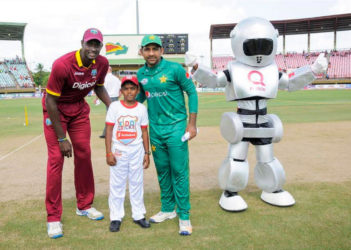 One of the participants, 11 years old Azam Mohammed, captain of Enterprise Primary School, was chosen to accompany captains Jason Holder and Sarfraz Ahmed at the coin toss ceremony.
Meanwhile, KJ Singh, the WICB's Senior Project Officer, commenting on the initiative, indicated that he was quite pleased with the number of girls involved in the programme while highlighting the importance of continuing the 17-year tradition.
"It's always good to be in Guyana especially to see the amount of girls enlisted in the programme," he said.
"I think this in one if of the places in the Caribbean where we definitely promote girls being a part of the Scotiabank/Kiddy cricket and we're getting results here in Guyana. This is literally our 17th year in the programme, a partnership between the West Indies cricket board and Scotiabank and it has been a definite progressive 17 years both on and off the field," he added.
Touching on what unfolded the project officer added, "What we had today was the Scotiabank flagship event for the year which is the kiddy cricket interval display, so we had eight of your top schools, 114 children today participated in the international match.
"It's for them (the children) to get exposure and probably get some motivation from what they see on the field between Pakistan and the West Indies," highlighting the motivational factor of the gesture.
The Scotiabank Kiddy Cricket Programme encourages and promotes the development of well-rounded Caribbean youths, providing cricket resources and facilitating learning through the provision of academic aids. The program runs in 15 territories across the West Indies with 700 primary schools involved and over 150,000 children between ages six and 11. Several regional and international cricketers have benefited from this initiative, including West Indies fast bowler Kemar Roach.
Other big names like Chadwick Walton, Skipper Jason Holder, Jermain Blackwood, Female sensation Britney Cooper and more than half of the West Indies Under -19 team who won the last ICC Under 19 World Cup, Would have all graduated from the programme.
Around the Web