(The Sports Xchange) – Jimmy Butler scored 15 of his 30 points in the fourth quarter, including five during an 8-0 run midway through the final period that put Chicago in control, and the Bulls held on to beat the Boston Celtics 106-102 on Sunday in the opener of a first-round Eastern Conference playoff series.
Chicago prevailed on an emotional night in Boston, as Celtics point guard Isaiah Thomas played the day after his younger sister, Chyna, was killed in a car crash. Thomas played through tears with "RIP Lil Sis" written in tribute on his shoes. He paced Boston with 33 points.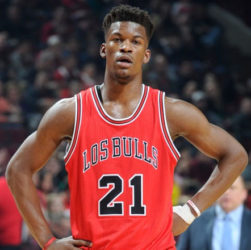 Thomas led a last-gasp effort for the Celtics, hitting a layup with 7.5 seconds left to cut Chicago's lead to 104-102, but Butler dribbled off a few seconds and sealed it with a pair of free throws with 3.3 seconds to go.
Wizards 114, Hawks 107
John Wall had 32 points and 14 assists as Washington controlled the second half to take a 1-0 lead in the series.
Bradley Beal scored 22 points and Markieff Morris had 21 points for the Wizards, and Marcin Gortat finished with 14 points and 10 rebounds.
Dennis Schroder scored 25 points and Paul Millsap had 19 for the Hawks. Atlanta made 32 of 39 free throws, but only shot 43.6 percent from the field and committed 21 turnovers.
Warriors 121, Trail Blazers 109
Draymond Green led a defensive surge early in the fourth quarter and backup point guard Ian Clark contributed seven points to a 15-2 flurry as Golden State won Game 1 of the series.
The eighth-seeded Trail Blazers never trailed by more than eight points in the first three quarters and used a three-point play by backup Pat Connaughton in the final seconds of the third period to draw even at 88-all.
Rockets 118, Thunder 87
Patrick Beverley carried the load until James Harden rebounded from a poor shooting start, and Houston claimed Game 1 of its Western Conference first-round series with a romp over Oklahoma City at Toyota Center.
Beverley scored a playoff career-high 21 points and added 10 rebounds, steering the ship until Harden got untracked. Harden missed all six of his 3-point attempts in the first half but finished with 37 points, nine assists and seven boards. Game 2 is Wednesday night at Toyota Center.
Thunder guard Russell Westbrook, a co-favorite with Harden for league MVP honors, tallied 22 points, 11 rebounds, seven assists and nine turnovers. He missed 17 of 23 shot attempts and was largely rendered ineffective in the second half, scoring seven points as Houston extended its five-point halftime lead to 33 points.
Around the Web