As day two action in the 2017 Bartica Regatta Speedboat competition continued yesterday the fierce competition that had already commenced on day one continued.
However, defending Champion Dave Scott continued his path of rewriting history when he extended his record to six consecutive defences of his overall Open champion title.
Watched by yet another large crowd which included a number of government ministers and senior private sector officials, Scott easily won a number of races yesterday to be crowned as the overall open category champion.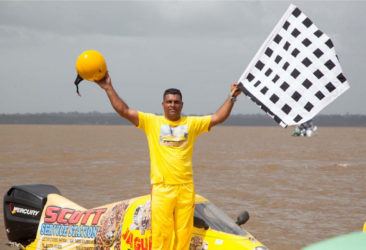 In results in so far, Race 11 in the 75-90 HP category sponsored by Prestigious Inn saw Jose Jardine placing first with Raymond Rasul and Danny Benjamin second and third respectively.
Race 12, the 225 category which was sponsored by Aruwai Resort was won by Scott from Sean Belle and Jardine respectively.
Race 13 for 25-40 HP, sponsored by Obama Transportation and Dass Enterprise was won by Jardine from Ravie Dookie and Romeo B Randolph respectively.
The Jet Ski race, sponsored by DDL, saw Whitney Welcome winning from Alec Hopkinson and Dylan Williams respectively.
Scott will take home the Open Champion trophy along with one million dollars sponsored by BK International, Sir Service Station and the Ministry of Tourism. The 115-200HP overall champion will take home $500,000 thanks to Pomeroon Oil Mills and the Ministry of Tourism. The 75-90 HP overall champion will receive $200,000 sponsored by Ansa McAl Guyana and the Ministry of Tourism, while the overall champion in the 25-40 HP category will pocket $50,000 compliments of Falls Service Station and the Ministry of Tourism. All the prize winners will also receive trophies.
Around the Web