Vryman's Erven secured their second Region #6 title in the Digicel Schools Football Championship, dismissing Berbice Educational Institute (BEI) by a 3-1 margin yesterday at the Burnham Park ground, New Amsterdam.
Winner of the 2014 zone championship, Vryman's Erven secured the title against the first time finalist via a double from Shapuan George in the 17th and 45th+3 minute and an Alex Ogleton 34th minute conversion. For BEI, Dwaine Alleyne scored in the 69th minute. With the victory, Vryman's Erven will oppose the winner of the Bush Lot Secondary (Region #5 titlist) and Annai Secondary (Region #9 winner) matchup.
Played under soggy conditions in front of a small crowd, George broke the deadlock under fortuitous circumstances compliments of a goalkeeping error.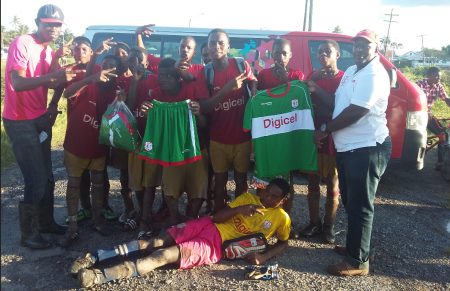 The nippy forward unleased a hopeful cross from the right side of the field, which was misjudged by the custodian who was off his goal-line and settled into the back of the net.
Another goalkeeping error led to Vryman's Erven increasing their lead as Ogleton etched his name on the scorer's sheet. Receiving a pass inside the centre of the box, Ogleton uncorked a right foot effort which went through the grasp of the goalkeeper and rolled into the back of the net.
The perfect half was completed by George moments before the conclusion of the first half. George sealed a deserved brace, stabbing his effort into the right corner, after a right side cross was poorly cleared by the defender.
BEI eventually recorded a consolation goal through Alleyne. It was a moment of brilliance from the midfielder, whose powerful right foot effort from 30 yards out in the center of the field, nestled into the lower right corner.
Meanwhile, DC Caesar Fox whipped Bartica Secondary 6-0 to clinch their seventh consecutive Region #7 title.  They will now oppose Uitvlugt Secondary (Region #3 Champion) tomorrow (Sunday) at the National Track and Field Centre, Leonora.
The championship is scheduled to conclude on July 31st. Chase Academy is the defending champion, with Christianburg/Wismar the most successful school with four consecutive titles (2012, 2013, 2014, and 2015) in six successive final appearances.
The other winner of the tourney was GTI in the inaugural edition (2011). Victor of the event will receive $1,000,000 towards a school project and a trophy.
The second, third and fourth place finishers will collect $700,000, $400,000 and $350,000 towards a school initiative and the respective accolade.
Around the Web