Guyanese boxer, Keevin Allicock punched his way to a silver medal at the  Commonwealth Youth Games in the Bahamas yesterday.
The young prize fighter was going for gold in the 52kg division but dropped a 5-nil decision to Englishman, James David.
En route to the gold medal bout, Allicock recorded wins against Kian Bittles of Northern Ireland and Jordan Mathieu of Canada.
Allicock's heroics was the only podium worthy performance for Guyana's 10 representatives that competed in four disciplines: boxing, judo, swimming and track and field.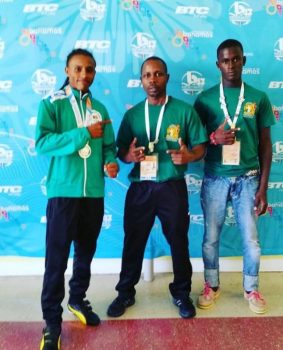 In an immediate reaction, president of the Guyana Boxing Association (GBA), Steve Ninvalle stated that:"To win a silver in the Commonwealth Youth Games with over 70 countries participating is a plus, we applaud him and we applaud his efforts.
"We are happy and we know that in the future with the support of everyone he and others can do more."
He added:"This goes to show what we have been saying all the time. We have the raw talent and we as a boxing association are operating on fumes so you can imagine if our tank was half filled what we can do."Allicock who is one of the most disciplined young talents in the fistic sport came up through the DDL U-16 programme and according to Ninvalle, "this shows how important these programmes are."
Ninvalle concluded by stating that during the next four years the association will be channelling more of its efforts towards the youth and junior fighters.
Around the Web