Reuters) – Wladimir Klitschko ruled the heavyweight scene with a steel glove for more than a decade yet it was a defeat by Anthony Joshua which ensured the Ukrainian retired on Thursday with the universal respect that eluded him for so long.
Often denigrated for a robotic style, short on flair, Klitschko reigned supreme in a heavyweight era suffering from a dearth of box office names.
The 41-year-old dispatched a regular supply of average fighters to reach 64 career victories yet few, if any of them, will feature in a show reel of the sport's greatest contests.
Instead it will be his final fight, against Britain's Joshua, that will be define Klitschko's legacy. Despite a 14-year age gap and fighting in front of a partisan 90,000 Wembley Stadium crowd, Klitschko produced arguably his best performance before being stopped in the 11th round of a sensational fight.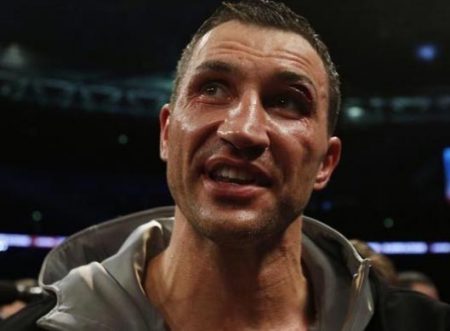 Had he finished off a wobbling Joshua in the sixth round Klitschko would have become only the second fighter after George Foreman to win a recognised version of the world title as a 40- something year old.An eagerly anticipated Las Vegas re-match with Joshua was in the pipeline, yet Klitschko, who lost his WBA, IBF and WBO heavyweight belts in a disappointing defeat by Britain's Tyson Fury in 2015, has decided enough is enough.
Klitschko turned professional in 1996 shortly after winning super-heavyweight gold at the Atlanta Olympic.
Klitschko won his first world title in 2000, beating American Chris Byrd to claim the WBO title.
He suffered defeats at the hands of South Africa's Corrie Sanders and American Lamon Brewster in 2003 and 2004.
After teaming up with trainer Emanuel Steward, Klitschko became a far greater all-round fighter and went 11 years unbeaten before losing to Fury.
Klitschko is second on the all-time list for successful title defences with 23, behind the 25 of Joe Louis, while his 29 heavyweight title fights remains a record.
Around the Web