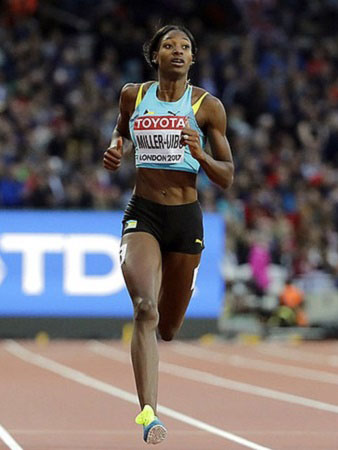 LONDON, CMC – Bahamian Shaunae Miller-Uibo bounced back from her 400 metres disappointment earlier in the week to win bronze in the women's 200m at the IAAF World Championships here Friday.
The 23-year-old clocked 22.15 seconds as Dutch star Dafne Schippers snatched victory in a season-best 22.05, with Marie-Josée Ta Lou of Côte d'Ivoire finishing second in a national record 22.08.
Schippers and Ta Lou came off the final curve level and launched a furious battle over the last 80 metres, with Miller-Uibo trailing them off the turn. However, she found an extra gear in the last 60 metres and was closing rapidly on the duo when she ran out of time.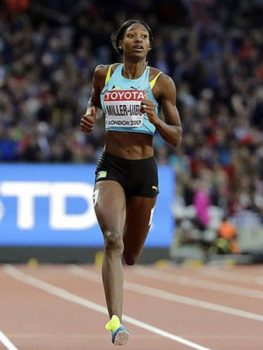 "It's been a great experience for me, with my first attempt at the double. It was different but I liked it. I'm definitely going to try it again in 2019," Miller-Uibo said.
For Schippers, her victory represented a successful title defence following her win in Beijing two years ago, and compensated for her disappointed last year at the Rio Olympics when she finished second.
Bahamian Tynia Gaither, the only other Caribbean runner in the final, trailed in last in 23.07 Chantel Malone of British Virgin Islands finished seventh in the women's long jump, won by American Brittney Reese for the fourth time with a leap of 7.02m.
Jamaica's sprint hurdles quartet of defending champion Danielle Williams, Megan Simmonds, Rushelle Burton, and Yanique Thompson failed to make it to the championship race.
Thompson came the closest with 12.88 – the 10th best time – after she finished a close third in semi-final two. Williams, the overwhelming favourite for a medal, had things tough from the start when she hit the first hurdle and came home fifth in 13.14. Grenadian Kurt Felix with 4,293 points ended day one of the men's decathlon in sixth, with teammate Lindon Victor 15th with 4,192 points.
Comments

NEW DELHI, India, CMC Superstar Chris Gayle headlines several top-tier West Indies players who will join over 1 000 players in the highly anticipated Indian Premier League auction scheduled for month end.

BELFAST, Ireland, CMC Two-time former 50-overs champions West Indies maybe the highest seeded side in the ICC World Cup qualifiers but they hold no terrors for minnows Ireland.

With only one day remaining for the registration process of the Guinness Greatest of the Streets West Demerara/East Bank Demerara zone, approximately 24 teams have submitted their participation forms for the qualifying stages.

Coach of the already crowned champions of the 2017/18 edition of Cricket West Indies Regional four-day first-class championships, Esaun Crandon, has suggested that there will be little tinkering to the squad set to take on the Trinidad and Tobago Red Force in their final round match, which begins at the Guyana National Stadium tomorrow.

Cricket action in the City is set to take shape January 27 as the Georgetown Cricket Association (GCA) aims to conclude a number of tournaments that would have rolled over from 2017.