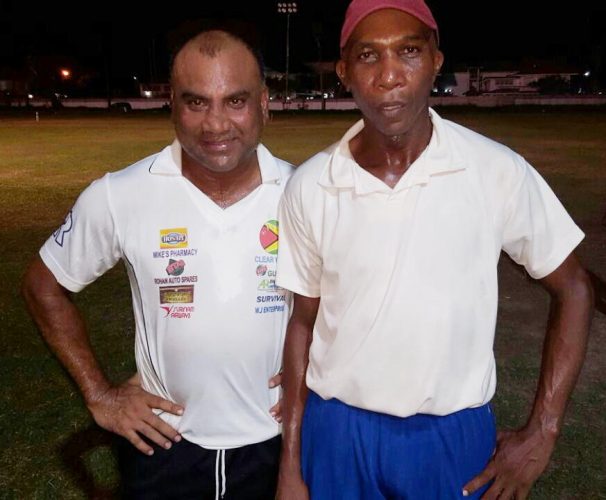 Sensible batting by Shawn Massiah led a Floodlights XI to a convincing six-wicket win over Parika Defenders in a specially arranged T20 match under lights at the Demerara Cricket Club ground last Friday night. He was supported by Patrick Khan with 33 and Ricky Deonarain with an unbeaten 25.
In the bowling department, he got support from Anil Beharry with 3 for 10.
The visitors won the toss and chose to take first strike in excellent weather for cricket. They lost opener M. Chatram for a duck and M. Balgobin for three.
Jerome Basdeo joined the other opener Dubraj Singh and together they put together a fine partnership of 103 runs for the third wicket. They blasted the bowling all over the park and led their team to the eventual total of 149 for 6 off their allotted 20 overs.
Singh made 60 and Basdeo 45.
Bowling for Floodlights XI, Beharry took 3 for 10. Surendra Nauth and Khalid Baksh took a wicket each while young Romeo Deonarain bowled economically without taking a wicket.
In reply, the host team lost openers Yusuf Uniss and Rabindra Singh both without scoring. Massiah and Khan then added a third-wicket partnership of 58 before the latter went for 33.
Rakesh Arjune came and went quickly for two. Ricky Deonarain then joined Massiah and took full control of the game adding an unbeaten fifth wicket partnership of 68 taking their team home with 5 balls to spare. Massiah ended on 59 not out earning the Man-of-the-Match award while Deonarain ended on 25 not out. Bowling for the visitors, Basdeo completed a fine all round performance taking 3 for 34 off 4 overs.
Comments

The inaugural Magnum 'Tek Charge and Win', Futsal Christmas Classic was officially launched yesterday at the Windjammer International Hotel and Cuisine, Queen Street, Kitty.

TAROUBA, Trinidad, CMC – Guyana Jaguars captain Leon Johnson hit a sparkling, fifth first-class hundred to put the current leaders and reigning three-time champions into the early ascendancy against Trinidad & Tobago Red Force in the Regional 4-Day Championship on Thursday.

If you are a fan of chiseled physiques, then the place to be this evening is the Theatre Guild in Parade Street, Kingston.

Turfites get ready, the 'Sport of Kings' returns to the Alness Turf Club tomorrow for a grand one-day meeting.
The Playoff Round of the Guyana Amateur Basketball Federation (GABF) 2017 'Road to Mecca' tournament bounces off today at the Cliff Anderson Sports Hall, Homestretch Avenue.