Guyana recorded their best showing so far in the Pan American Indoor Hockey championships humbling Mexico and Barbados in the men and womenТs divisions respectively yesterday at the Cliff Anderson Sports Hall, Homestretch Avenue.
The Guyanese men matched the largest margin of victory in the category, equalling the 12-0 score Argentina recorded over the same opponent (Mexico) on Tuesday.
Similarly, it was also the standout individual goal scoring performance of the event as Robert France netted eight times, besting the five goal haul of ArgentinaТs Agustin Ceballos against the Mexicans.
France found the back of the net in the third, fourth, 12th, 14th, 24th, 25th, 27th and 29th minute. Adding goals in the ninth, 15th, 26th and 34th minute apiece were Jason DeSantos, Jamarj Assanah, Andrew Stewart and Hilton Chester respectively.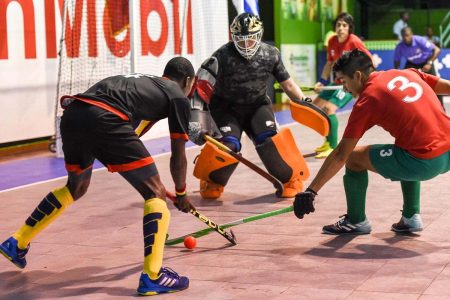 On the other hand, the Guyanese women  clinched their first win in four matches, defeating Barbados 5-1. Gabriella Xavier bagged a double in the fifth and 14th minute, while Kerensa Fernandes, Nicole Eastman and Marzana Fiedtkou scored in the 15th, 24th and 32nd minute each.
For Barbados, Cher King netted in the 19th minute. The women will resume action today against Trinidad and Tobago (T&T) at 14:00hrs and United States of America (USA) at 19:00hrs while the menТs team will oppose Canada at 20:15hrs.
Point Standings-(Women)
Team           GP        W     L      D     GF    GA   GD   Pts.
Argentina     4         3       1      0     23     5    +18    9
USA             3         3        0      0    14      5    +9      9
Canada        3         3        0      0    10      1    +9     9
Uruguay      3         2        1      0    9        6    +3     6
Guyana       4         1         3     0     8     10    -2       3
T&T            4          0        4     0     2     18   -16     0
Barbados   3          0        3     0     3     24   -21      0
Around the Web