Guyana recorded their worst showing yesterday in the Pan American Indoor Hockey Championship, losing to Canada in the Men's division and Trinidad and Tobago and the United States of America (USA) in the Women's section.
The Men's team suffered an 8-5 defeat to Canada at the Cliff Anderson Sports Hall, Homestretch Avenue. Jonathan Roberts recorded a 'Sock-Trick' [term used in lacrosse], scoring six times, in the 13th, 19th, 20th, 28th, 28th and 33rd minute.
He was assisted by Micah and Devohn Teixeira who scored in the 22nd and 37th minute apiece. For the losers, Jamarj Assanah tallied a hat-trick in the 22nd, 32nd and 34th minute, while Aroydy Branford and Marvin Dannett netted in the 38th and 39th minute each.
Meanwhile, Trinidad and Tobago defeated the local ladies 6-3. Krizia Layne bagged a double in the fifth and 36th minute, while Blair Wynne scored twice in the 22nd and 40th minute. Adding goals in the second and 37th minute were Arielle Williams and Alanna Lewis, respectively.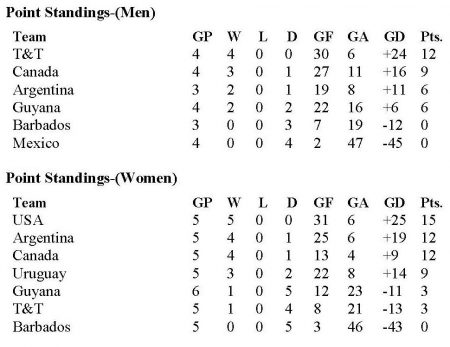 For the Guyanese, Marzana Fiedtkou scored twice in the 18th and 20th minute, while Nicole Eastman scored in the sixth minute.
The Guyanese Ladies in their final match of the round-robin stage, went down to USA 7-1. Ali Campbell tallied a helmet trick in the fifth, 19th, 38th and 39th minute, Beth-Mary Barham scored twice in the 17th and 31st minute.Adding a sixth minute conversion was Sammy Popper.
For the locals, Marzana Fiedtkou scored in the 36th minute. The tournament continues at the same venue today.
Around the Web