Director of Sport, Christopher Jones, yesterday said that he was proud  that the Department of Sport was able to host the second Special Schools Athletic Sports.
The meet, which was held at the Guyana Defence Force (GDF)ground, Camp Ayanganna, was hosted by the Department of Culture, Youth and Sport, which falls within the purview of the Ministry of Social Cohesion, in collaboration with the National Sports Commission (NSC).
Students from 10 special needs schools, including New Amsterdam and Linden, participated in the event.
"We mentioned last year, that it was the first time in Guyana's history that a special needs school sports was [held] and the commitment we made to you last year is that it would not be the first or the last year, and as testimony to that, here we are again today … We make a commitment to you here today that the special needs sports will extend and go even further," Jones said while declaring the event open.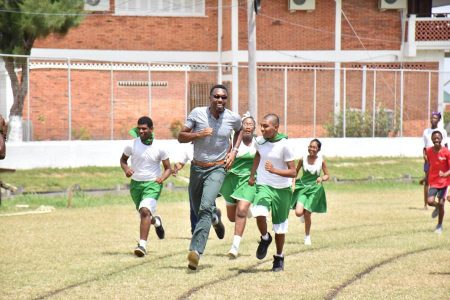 He added said that the NSC plans to expand the roster of activities to include bocce (a ball sport) and swimming competitions at next year's event.
Last year, 154 children from 10 schools participated in 46 events and according to a release, this year's programme has seen a 60% increase in participation.
The annual event aims to encourage wide participation by persons with disabilities in sports, with the view of honing the potential of para-athletes to compete in the 2019 World Summer Special Olympics to be held in Abu Dhabi, United Arab Emirates. According to the release, the NSC saw the need for the nation's  Paralympic athletes to become more involved in sports, and, through Sports Organiser, Wilton Spencer, it planned and funded the event to generate opportunities for special needs students.
In an invited comment, Master Seon Mitchell, a student athlete from the Wismar Visually Impaired Unit, said that he came to have fun and enjoy the day.
"I came to take this away today and I'm so excited to compete because I know we from Linden always perform and take home the tittle," he said.
Similar sentiments were expressed by Anston Forde, a student of the St. Barnabas Special School.
"I will be running relay [and] 200 metre," he said.
The students are competing for a line of medals as the focus is on individual athletes. As the event develops, focus will be placed on both athletes and schools and trophies will be introduced.
Around the Web