The popular Trophy Stall and Ansa Mc Al are the latest entities to throw their support behind the Guyana Floodlights Softball Cricket Association's (GFSCA) Guyana Softball Cup 7 which bowls off this weekend.
Trophy Stall has donated the trophies for finals of all four divisions while Ansa McAl Trading, through its Stag Beer brand, has made a commitment to being a major partner of the November 3-5 tournament.
The finals of all the categories will be held Sunday from 10am at the Demerara Cricket Club, ground Queenstown.
Yesterday, at a simple function at its Beterverwagting, East Coast Demerara, office, Ansa Mc Al presented the sponsorship to officials of the GFSCA.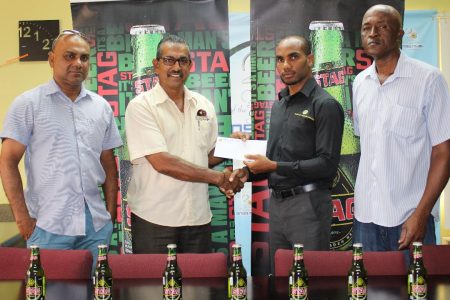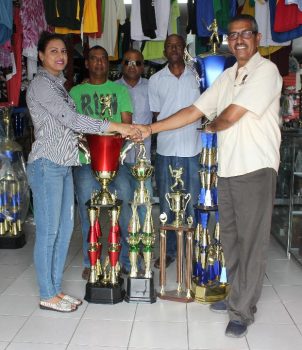 Stag Beer Brand Manager, Lindon Henry made the donation to GFSCA's Jailall Deodass, in the presence of Ricky Deonarain and Wayne Jones.  Henry, in brief remarks, said his company was pleased to support the GFSCA once more adding that he was satisfied with the way the tournament is being run.
This year's tournament will see teams from Canada, Florida and New York, throwing down the gauntlet to the local teams.
Additionally, on Sunday, three lucky patrons will have opportunities to win trips to local resorts Arrowpoint, Aruwai and Baganara.
Action will bowl off at 10:00h with the female 10/10 final, followed by the final of the Under-13 20/20 hardball competition between Blairmont and GCC at 11:45h. The Masters final will start at 15:00h and the Open final at 18:00h.
The champion team in the Open category will receive $800,000, while winner of the Masters division is assured of $600,000. Player-of-the-Series in both categories will each receive a gold bat pendant, sponsored by Steve's Jewellery.
Matches will be played at the Police, Guyana Defence Force, Demerara Cricket Club, Malteenoes and Georgetown Cricket Club grounds.
The tournament has received corporate support from Stag Beer, Rubis Guyana, Trophy Stall, Steve's Jewellery, Clear Waters, Busta, Rohan Auto Spares, A&R Jewanram Printery, WJ Enterprise, Mike's Pharmacy, Ramchand Auto Spares and Survival Group of Business.
In 2016, Speedboat XI dethroned the defending champions Regal All-Stars to win the Open segment while Floodlights XI outplayed Fishermen XI to win the Masters category.
Admission is $1,000 but children under 14 years of age will be allowed free entry into the ground.
Spectators are also requested to keep their half ticket and listen for their numbers since there are lots of prizes to be won including 10 hampers.
Schedule November 5
10am: Female Softball finals 10/10.
11:45am: Well-Teen, Trophy Stall, Tropical Springs and Nauth Motor Spares Under 13 years final 20/20 Hardball- between Blairmont and GCC. 3pm: Guyana Softball Cup 7 Masters Finals 20/20
6pm: Guyana Softball Cup 7 Open Finals 20/20. 9:15pm Presentation Ceremony. 10pm: Conclusion of Guyana Softball Cup 7.
Around the Web