Two-time defending champs Sparta Boss reached  the elimination round of the Guinness Greatest of the Streets after edging edging fierce rival Channel-9 Warriors 1-0 Thursday. In what was a must-win clash in front of a mammoth crowd at the National Cultural Centre tarmac, the holders produced a gritty performance to secure the win. Unlikely hero Cleyon Forrester placed his effort into the back of the net in the fifth minute to stun the partisan crowd which brazed the pouring rain.
Meanwhile, Ol Skool Ballers kept their hopes alive of clinching a knockout berth by edging Gaza Squad 1-0. Roy Cassou scored in the 15th minute.
Also, West Front Road dismissed North Ruimveldt 2-0 through goals from Deon Alfred in the sixth and seventh minute.
In other results, California Square crushed Stabroek Ballers 3-0 while Norton Street downed Sophia by an identical scoreline.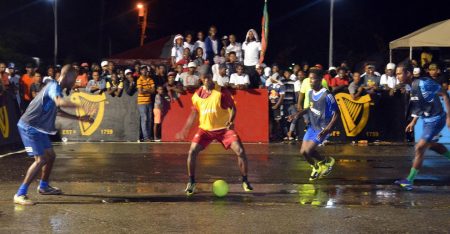 Similarly, Upsetters edged East Front Road 1-0,  Kingston defeated New Market Street 1-0 and North East La Penitence overcame Festival City 1-0.
The event resumes today at the Albouystown Tarmac with the final round of group matches. Below is the complete list of fixtures.
Fixtures- December 2nd-Albouystown Tarmac
Smyth Street vs Judgement Yard                   -19:00hrs
East Front Road vs Alexander Village            -19:30hrs
Albouystown-B vs Rising Stars                      -20:00hrs
Bent Street vs Sophia Bullies                         -20:30hrs
Back Circle vs Trap Squad                             -21:00hrs
Future Stars vs Upsetters                              -21:30hrs
Ol Skool Ballers vs Channel-9 Warriors        -22:00hrs
Albouystown-A vs Leopold Street                -22:30hrs
Complete Results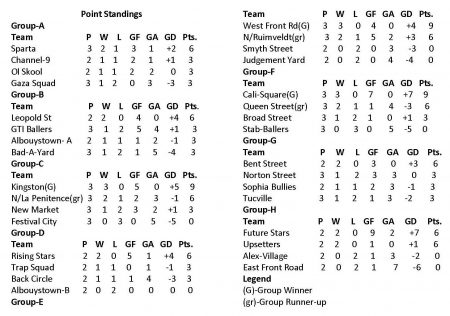 Guinness Goal-(GG)-2 goals
Game-1
California Square-3 vs Stabroek Ballers-0
Wesley Greenidge-18th-(GG)
David George-4th
Game-2
Norton Street-3 vs Sophia Bullies-0
Quincy Ashby-18th-(GG)
Sherwayne Chase-4th
Game-3
Kingston-1 vs New Market Street-0
Sherwin Vincent-6th
Game-4
Upsetters-1 vs East Front Road-0
Joash Figueira-14th
Game-5
North East La Penitence-1 vs Festival City-0
Rawl Audain-9th
Game-6
Ol Skool Ballers-1 vs Gaza Squad-0
Roy Cassou-15th
Game-7
West Front Road-2 vs North Ruimveldt-0
Deon Alfred-6th and 7th
Game-8
Sparta Boss-1 vs Channel-9 Warriors-0
Cleyon Forrester-5th
Around the Web